WATCH: Sneak Peek at First 'Real Country' Performances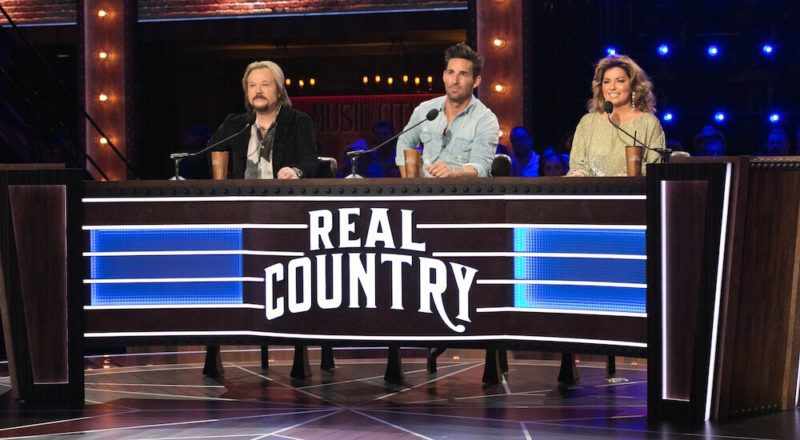 CJ Hicks/USA Network
USA Network's new country competition singing show Real Country premieres tomorrow! With artists carefully selected by judges Travis Tritt, Jake Owen, and Shania Twain, this show has a lot of star power behind it. So chances are it'll be a huge success for country fans! Three acts will perform each show for a spot in the Finale. After seven episodes, the winners from each week will go head-to-head for a grand prize of $10,000, a performance slot at the Stagecoach Festival and a chance to perform at the Grand Ole Opry.
Here are the first looks at the Real Country artists competing for the win:
Copper Chief
The first of Travis Tritt's seven picks is Copper Chief. They are a central Texas band with three country singers. They have been touring all around Texas but hope to make it big on Real Country! For their performance, they sang "I Ain't Living Long Like This" by Waylon Jennings. The song is upbeat and plays well into the three voices. They have some great harmonies and show off on their guitars throughout the song. These guys are just straight up fun to watch; there's really no way around that. Overall, I thought it was a really entertaining performance. Plus, you really can't miss or forget that facial hair!
Jaida Dreyer
Jaida was one of our "early standouts" when the Real Country artists were announced. She is one of Nashville's most sought after co-writers, writing songs for the television show "Nashville" and Luke Bryan. Jaida also has the biggest Instagram following of anyone on the show, with over 50,000 followers! And after this performance, it's easy to see why. She sang Bobbie Gentry's "Fancy" and commanded the Real Country stage. Jaida really has a presence about her, along with a great voice. Her tone is super interesting, unlike most country vocalists now. Jake Owen, who chose Jaida Dreyer, is seen throughout her performance gesturing for her to "give it to us!" Well I think she did just that. We could definitely be seeing more of Jaida!
The Young Fables
Finally, we have Shania Twain's pick, The Young Fables. They are an award-winning duo from Maryville, Tennessee, consisting of Laurel Wright and Wesley Lunsford. They have appeared with well-known country stars like Lauren Alaina, Josh Turner, Rascal Flatts, and The Band Perry. Quite an impressive resume! Laurel starts off singing their rendition of Emmylou Harris's "Two More Bottles of Wine." Her tone is smooth and clean, playing well with the guitar plucking happening by Wesley. Then, when he joins in with the harmony, their performance gets taken to the next level. I really like these two! And to top it all off, Wesley's guitar solo was really something! They have a lot of strength both in their voices and in their instrumental abilities.
It's clear to see that all these acts are very experienced and know what they're doing on stage. Compared to artists on shows like The Voice and American Idol, these acts seem much more refined and professional. Because so far, these are all full-time musicians and performers! I'm excited to see who these artists will have to go up against.
The season premiere of Real Country is tomorrow at 10/9 Central on USA Network.
Let us know what you feel about this article
Read Next