Ariana Grande's Best Looks As a Coach on 'The Voice'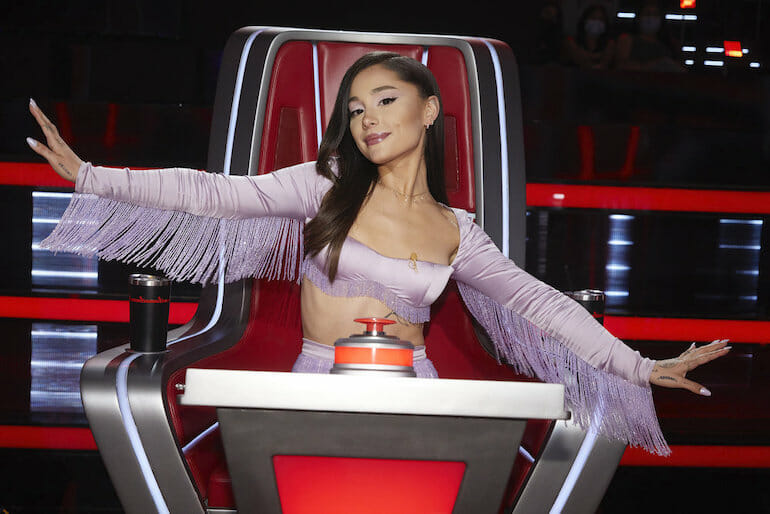 Trae Patton/NBC
The Voice season 21 has been a wild ride. Ariana Grande was the newest coach for the season and she definitely did not disappoint. Even though she didn't have any singers in the finale she was able to coach Jim and Sasha Allen into the Top 8 of the competition.
Grande is known for many things in hollywood, but one that's not taken lightly is her sense of style. She's know for her iconic ponytail and adorable outfits, so let's rank some of her best looks on The Voice. Before we get to far, I am a huge Grande fan. Ariana Grande, if you're reading this, please know that I love you even if I didn't love some of these outfits.
8. The Two Piece Metallic Set
This outfit was definitely a statement on The Voice, but it wasn't her best. I loved this color on her, just wasn't a huge fan of the top's design. It was giving thick mermaid vibes and I just wasn't there for it.
7. The Blazer and Bow Look
I really wanted to like all of Grande's scarves and bows this season. She looked adorable them each time, but I couldn't get past the giant army green blazer. Grande is known for her oversized outfits, but this just felt out of place. The color scheme isn't what I expected out of this pop star at all. I would instead expect Blake Shelton to wear this (minus the bow and scarf of course).
6. The Iconic 13 Going on 30 Look
Don't get me wrong, I love 13 Going on 30, but there was no rhyme or reason behind this look. I know, she's Ariana Grande she doesn't need a reason, but I desperately wanted one. If Kelly Clarkson would've matched the 90's romantic comedy vibe I would've liked this outfit a lot more.
5. The Matte Grey Dress
I wasn't a huge fan of the gloves in any of her outfits, but they were okay here. The bow and gloves accented her dress extremely well. On top of that, this color scheme looked beautiful on her skin tone. There's not many people who could pull off a muted color, let alone rock it like she did.
4. Her Cute, Yet Simple Pink Dress
This gave me bubble gum pop Ariana Grande vibes. It's possible that I'm stuck in the past from being a fan since Yours Truly, but this is the type of outfit I was dying to see on The Voice. I absolutely loved how her makeup matches the color of this dress. Once again this is a color that not everyone can pull off, so I think she really popped off with this one.
3. Her Yellow Performance Dress
When she walked on the stage I think I audibly said 'wow.' This outfit did not disappoint for her performance with Kid Cudi. This song is from the film Don't Look Up, where Grande is dressed in a very similar outfit. Within the film she plays the role of a larger than life singer and I think this dress went right along with that. I couldn't take my eyes off of her during this performance.
2. Her Gorgeous Finale Dress
This was one of the most simple outfits Grande wore to The Voice, and I immediately became obsessed with it. The neckline and bottom of this dress add an elegant aspect to it as a whole. Much like Sofia Vergara on America's Got Talent, this coach redefined the term 'little black dress'. When people hear that term they think a simple, slimming, no frills, black dress. This dress adds a whole new flare to this statement. It flatters Grande's curves and has minor details that I loved.
1. The Pink Two Piece
This two piece was my favorite outfit by far this season. She wore this during the battle rounds and I couldn't get over the fact that the frills moved with her when she danced. Grande shared her personality on this show, and I think this dress added to it. I quickly became obsessed with how the dress seemed to have a personality of it's own. I didn't even mind the fact that she was wearing this for multiple episodes, I never got sick of it.
Let us know what you feel about this article