'America's Got Talent' Just Put Out Another Audition In Quarantine [VIDEO]
NBC
The America's Got Talent judges reunited in a recently uploaded clip as online auditions continue. Simon Cowell, Heidi Klum, Howie Mandel, Terry Crews, and new judge, Sofia Vergara took to Zoom as they continue to judge this year's acts from their homes. Find out which acts we can expect to see on the big stage later this year!
'AGT' Judges Reunite In Hilarious Zoom Call For Another Night Of At-Home Auditions
The show must go on, especially when its America's Got Talent. This year's judges continue to tape the show from their own homes, prepping for the next stage of the competition later this year.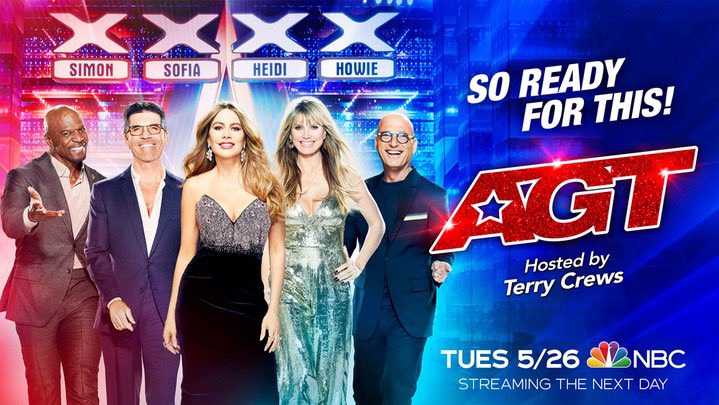 And, as the premiere date for the show gets closer and closer, AGT has released another sneak peek clip of what we can expect once it returns on May 26.
Magician WOWS The 'America's Got Talent' Judges From His Home
In the recent clip, uploaded to AGT's YouTube channel, the four judges met a magician that claimed to have the powers of reading minds. Obviously, Cowell was convinced.
RELATED: LEAKED 'AMERICA'S GOT TALENT' AUDITION TAPES WILL GIVE YOU GOOSEBUMPS
The magician that went by the name of Max, started off by teaching the judges and host, Terry Crews a quick hand trick that pulls your fingers together. Whilst the trick didn't work for them all, it was a good appetizer to what was to come. Max then asked Sofia to grab a deck of cards and pick one. Afterward, the magician was able to predict which one Vergara had chosen with it being the only card in his deck that was turned over the opposite way. Max got himself four yes's from the judges and will now be put forward for consideration.
Dancing family audition virtually for the America's Got Talent judges
Next to perform in the sneak peek clip was a hilariously energetic dancing family. A dad with his three children introduced themselves to the judges via Zoom. The four of them lit the room on fire with an incredible synchronized performance that had us all eager to get up and join in. The fun act was also put up for consideration. Way to go!
RELATED: SIMON COWELL IN PAJAMAS JUDGING 'AGT' ONLINE AUDITIONS FROM HOME [VIDEO]
America's Got Talent Season 15 begins May 26 on NBC. Don't miss it.
Let us know what you feel about this article