Harry Styles Earns Special Honor as He Ends Sold-Out Madison Square Garden Residency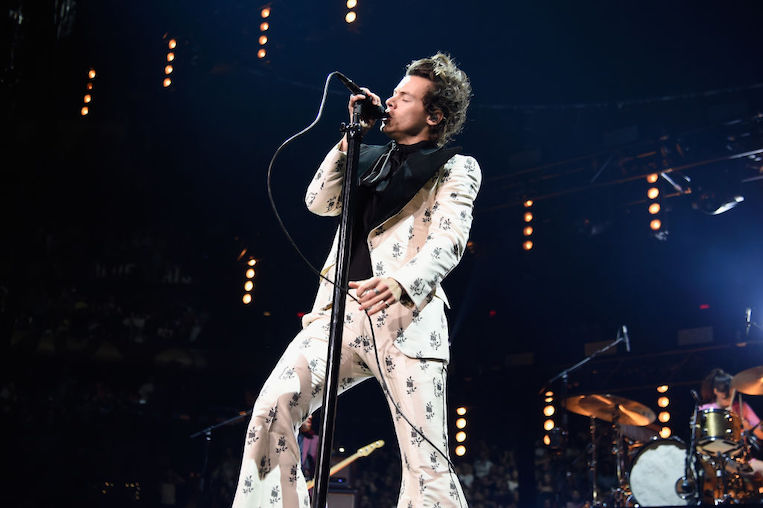 Photo by Kevin Mazur/Getty Images for HS
Former One Direction star Harry Styles marked a huge achievement on Wednesday as he finished a 15-show sold-out residency at Madison Square Garden in New York City. Styles got emotional as he spoke to fans about the accomplishment.
Harry Styles Ends Sold-Out Madison Square Garden Residency
Before the encore of the final show on Wednesday night, TV host Gayle King surprised Styles by unveiling a banner commemorating the 15 nights he performed at the venue. According to People, he joins Billy Joel and Phish as the only three music artists with banners.
"We're all at Harry's House right now. Fifteenth consecutive night, sold out show. No artist has ever done that before," King told Styles. "Twenty-thousand people, Harry, on their feet. We think you are walking joy, walking happiness… and we just want to say to you Harry, we don't want to say goodnight to you, Harry Styles!"
Styles got emotional as he witnessed the banner being hung up. He told fans, "To all of you who bought a ticket, thank you so, so much for your support. Things like this don't happen to people like me very often… and I just want to thank you all."
SEE ALSO: SIMON COWELL TALKS HARRY STYLES, THE ROYAL FAMILY
Styles Got His Start on The X Factor
Styles became famous as a member of the boy band One Direction, which was formed on The X Factor in 2010. Although Simon Cowell long took credit for the group's creation, a recently resurfaced video showed how instrumental Nicole Scherzinger was in the process.
Although they finished in third place on the show, the group became a global sensation, releasing five studio albums in their time together. Zayn Malik left the group in 2015, and they went on hiatus the following year to pursue solo projects. Styles has since become a star in his own right, having released three solo albums including this year's title Harry's House.
The singer told fans at Wednesday's show that whenever they come to Madison Square Garden and see the new banner, they should remember that it's there because of them. He told the crowd, "That is ours."
Let us know what you feel about this article