Contestant Nearly Kills Howie Mandel In This 'AGT' Preview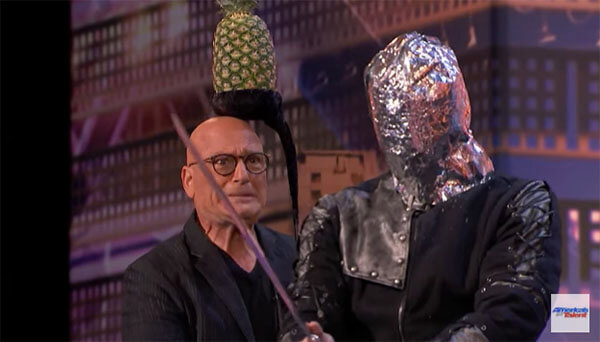 Youtube
Howie Mandel seems like a lovely man who has his share of demons to deal with. He's been very open about his struggles with depression and OCD. As a rule he doesn't like people touching him. So, it's always a little fraught when he is brought on stage at America's Got Talent by one of the contestants. Only this time he had more than germs to worry about.
Namely he was worried about decapitation. That's because a performer named Aaron Crow nearly took his head off. Aaron came on dressed like an extra from the Blade movies and unleashed a samurai sword. Scary. He then brought up two audience members and Howie. He gave a wooden board to one audience member and a paper bag to another one. He put a pineapple on Howie's Head. That does not bode well. He then pour wax On HIS EYES and wrapped his head in tape and tin foil. He then sliced open the bag with a knife, broke the boards with a pair of nunchucks and sliced the pineapple on Howie's Head with the sword.
Though it was very cool, if I was Howie I would definitely buzz him out.
Let us know what you feel about this article