Camila Cabello Joins 'The Voice' Coaches in Season 22 Promo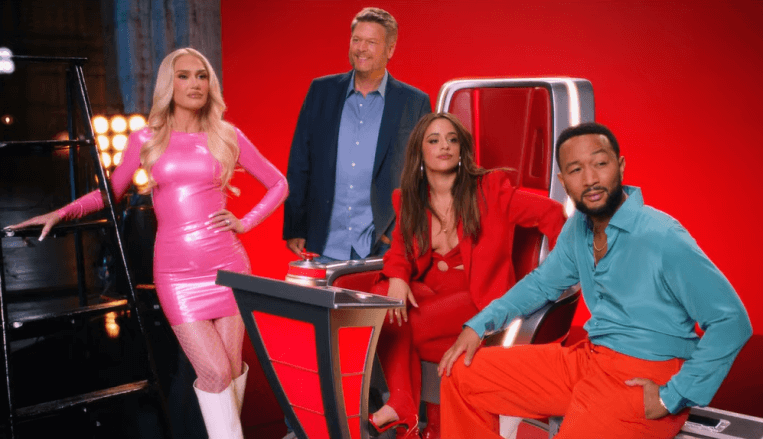 NBC via YouTube
The Voice just released a new promo ahead of the Season 22 premiere in September. The clip gives us a little taste of how the coaches will get along as Camila Cabello joins the panel. The four of them team up on set to solve a mystery.
'The Voice' Coaches Appear in New Season 22 Promo
The new promos starts with Cabello discovering that someone has made a banner welcoming her to the show, along with several gifts. However, the attached note (written with cut-out letters) is a little bit menacing, with the message that Cabello is "going to lose so bad."
It turns out that John Legend got a similar letter, telling him he "should never have come back" to the show. Along with Gwen Stefani, the affected coaches seem to suspect coach Blake Shelton. Their suspicions are confirmed when host Carson Daly shows up to tell Shelton to "stop crafting in my dressing room."
The promo also shows all four judges lined up in their spinning red chairs, with Cabello singing her track "Bam Bam." If their lineup in the promo is accurate, it looks like Legend will be moving to Kelly Clarkson's old seat, while Cabello will be between Shelton and Stefani.
SEE ALSO: JOHN LEGEND SAYS NEW 'THE VOICE' COACH CAMILA CABELLO WILL BE 'TOUGH TO BEAT'
The New Season Premieres September 19 on NBC
NBC has already announced that Season 22 of The Voice will premiere on Monday, September 19, at 8/7c. Last season's coaches Shelton and Legend are returning, along with on-and-off coach Stefani. They're joined by new coach Cabello, who was previously a Battle Advisor on Team Legend.
Legend recently shared that he "could tell she was really good at it" and suggested that she should be a coach. He said that he's "made it harder for myself by allowing her to be my competition," adding, "And now, she's coming for the crown. We all should look out."
Shefani fans will also be excited to see longtime coach Blake Shelton reunite with his wife Gwen Stefani on the show. Stefani won her last season, taking home the trophy with singer Carter Rubin in Season 19.
Let us know what you feel about this article