'X Factor' Hopeful Kicked Off Show For Porn Career — Where Is Becky Constantinou Now?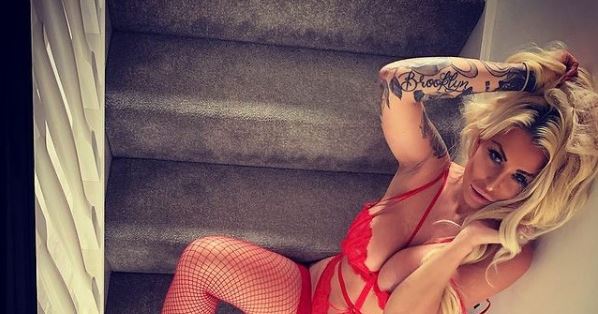 Becky Constantinou IG
Becky Constantinou was looking for her big break when she auditioned for The X Factor in 2015. However, after being recognized for her porn career by one member of the staff, she was sent packing. Where is this blonde bombshell now?
Producers Gave Becky Constantinou The Boot After Discovering Porn Career
Becky was 24 years old when she traveled to the Wembley Arena for her 'X Factor' audition. She made it to the third round of auditions when everything changed. A security guard at the venue then approached her. "The guard came up to me with a knowing smile and said, 'I know you from somewhere, you're that Brooklyn girl,'" she told The Sun. Becky is also known as her porn persona Brooklyn Blue. "A few days later I got a call from the show makers asking if I'd done any modeling and my stage names."
It was at this moment she knew that the security guard probably told other members of the production team about her adult film career. Most people know her as Brooklyn after years in the industry. At first, she was a bit dodgy of their questions and concerns. Finally, she decided to send the show an email confessing to her porn career.
SEE ALSO: 'THE VOICE'S TYSHAWN COLQUITT BLAMES PORN PAST FOR HIS ELIMINATION
"I know 'X Factor' is a family show, but porn shouldn't define who I am. I was never going to put on a sex show for Simon" she added. A source close to the show said that Becky was then booted from the show after a background check. She never made it to audition in front of the judges. She said that this experience left her "devastated" since she spent thousands on vocal lessons. After she was booted from the show, she took to the streets of London, lifting up her dress to expose her underwear to paparazzi. She previously dated The Only Way Is Essex alum, Kirk Norcross.
Brooklyn Has Now Continued On With Her Successful Porn Career
In 2016, she began embracing her career as Brooklyn and went on a UK sex tour. "To me it's just a job," she told The Sun. "It's like another day at the office. I go into work
and, as much as I enjoy my job, I'm still like 'Oh, I can't wait till home
time.'"
Brooklyn currently has over 976,000 Twitter followers who tune in to see her post explicit videos and photos. "International Award-winning Brazzers pornstar! Princess of Porn. Kicked off the X factor 4 porn films!" her Twitter bio says. She also advertises her OnlyFans account where she uploads exclusive content daily. Brooklyn is offering a special 75% off discount making her content $3.75 for the first month.
SEE ALSO: FANS TORN AFTER SEXY RAPPER SAWEETIE ANNOUNCES PORNHUB PARTNERSHIP AMID ABUSE SCANDAL
Brooklyn is marking 10 years in the porn industry this month and posted that a "tip towards a bday present/bonus" on OnlyFans would be greatly appreciated.
Let us know what you feel about this article