Terry Crews Revisits His 'White Chicks' Days on 'That's My Jam'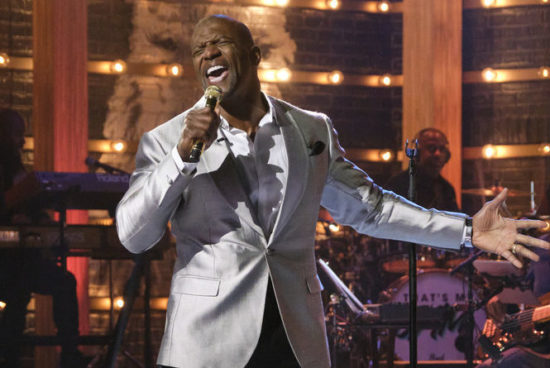 Trae Patton/NBC
America's Got Talent host Terry Crews recently appeared on That's My Jam joined by comedians Jay Pharoah, Nikki Glaser, and his singing partner, Dan Finnerty. The final song of the night was none other than "A Thousand Miles" by Vanessa Carlton (but by now, isn't that song by Terry Crews?)
The Slay It- Don't Spray It segment has contestants singing along to the lyrics of the song. Once the music stops, they must know the lyrics. If not, the "Doom box" will spray them with water. Safe to say, Crews was able to complete the lyrics to the famous song.
He showed his excitement that the song he is famous for knowing was his chance to win for charity. Fans of his will recognize the song well. Crews co-starred in the hit 2004 comedy, White Chicks. In the film, the former Brooklyn 99 star played the iconic Latrell Spencer. Crews's character was an outrageous sports star who had a "thing" for one the ladies, and by ladies we mean Marlon Wayans dressed up as a "white chick." While trying to court Wayans's character, Crews lip-synched to "A Thousand Miles." It is his most famous movie scene. The antics and dance moves that he added was comedic gold.
The audience knew this was Crews's chance to shine. When host, Jimmy Fallon, announced the final song, they went wild. That's My Jam premiered in November of 2021. The show began as a segment during The Tonight Show With Jimmy Fallon. It was his most popular segment, which led to the hour-long music game show we see on NBC.
'The Voice' Stars 'That's My Jam'
That's My Jam pairs four celebrity contestants and puts them to the ultimate music test. Perfect Mashup, Vinyl Countdown, Air Guitar, Wheel of Impossible Karaoke, as well as Slay It – Don't Spray It are all featured games throughout the show. Each game brings money for the charity of the winner's choice.
The Voice judges, Kelly Clarkson, Ariana Grande, John Legend, and Blake Shelton appeared on the first episode of the show. Clarkson and Grande went viral for their Mixtape Melody Showdown. The performance had them singing hit songs from pop divas. The episode brought in close to 5 million viewers, the highest rated episode so far. Clarkson and Legend were the winners of the night.
Fans can see Crews next as the host of America's Got Talent: Extreme, which premieres Feb. 21 on NBC.
Let us know what you feel about this article