Is JoJo Siwa Pregnant? Exploring the TikTok Rumors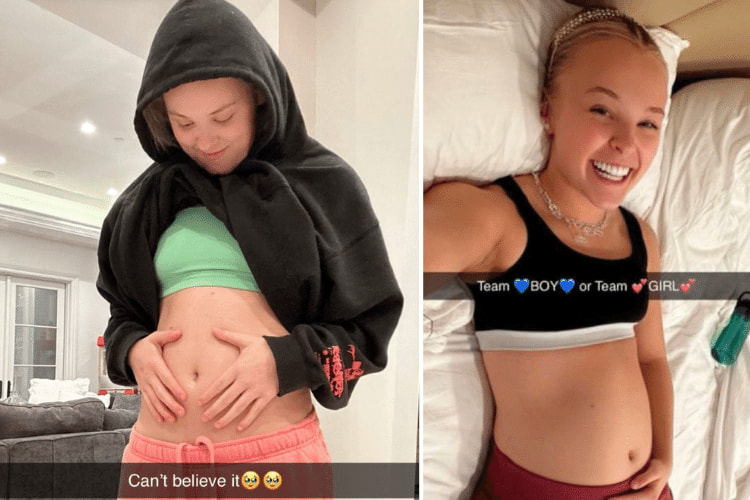 JoJo Siwa via Snapchat
JoJo Siwa has been at the center of a viral rumor that suggests she's pregnant, despite being openly gay and not currently dating anyone. The rumor started on TikTok and quickly spread to other platforms, causing confusion, speculation, and concern among her followers.
What We Know so Far About JoJo Siwa's Pregnancy Rumors
Siwa has recently been the subject of pregnancy rumors circulating on social media. The rumors started when a fan-made video claimed that Siwa was pregnant, despite there being no evidence to support the claim.
Siwa addressed the rumors in a TikTok video, where she confirmed that she is not pregnant. She joked that she had received the news after finishing her gymnastics routine, but clarified that it was good news and not related to a pregnancy. Despite Siwa's statement, the rumors have continued to spread online.
It's worth noting that Siwa is openly gay and previously dated Kylie Prew, and Avery Cyrus in early 2021 and late 2022 respectively. Some fans have been confused by the pregnancy rumors, assuming that Siwa's sexual orientation makes pregnancy impossible. However, lesbians have access to pregnancy resources, such as donors, and can have biological children.
In conclusion, Siwa is not pregnant, and the pregnancy rumors circulating on social media are baseless. It's crucial to avoid spreading false rumors and to wait for official statements or evidence before making assumptions.
SEE RELATED: JOJO SIWA ADDRESSES PREGNANCY RUMORS, SEXUALITY IN SNAPCHAT STORYTIME
This Isn't The First Time Fans Thought JoJo Siwa Was Pregnant
As rumors about Siwa's alleged pregnancy continue to swirl around social media, it's not the first time the teenage star has been at the center of such speculation. In fact, just last year, rumors of her pregnancy began circulating in June 2022, causing fans to wonder if there was any truth to the claims.
Even back then, Siwa had to address the rumors and clarify that she was not pregnant. During an interview with Howie Mandel's daughter, Jackelyn Shultz, who is a resident behind-the-scenes interviewer for Talent Recap, Siwa joked about the rumors.
While backstage on AGT season 17 last August, 2022, Shultz jokingly congratulated Siwa on her pregnancy amid the rumors to which Siwa played along with and said: "Oh my god, thank you! Baby girl in here, oh, it's a boy!" while touching her stomach. However, Siwa later explained that she was not actually pregnant and that it was just a joke.
Let us know what you feel about this article