'Got Talent Portugal' Host JUMPS to Give Contortionist the Golden Buzzer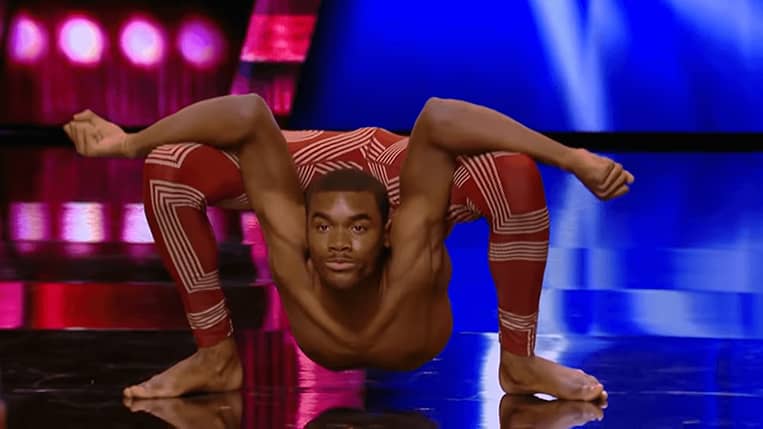 RTP1 / YouTube
A 16-year-old contortionist called Gildo auditioned for Got Talent Portugal in 2020 and totally shocked the judges with his moves. We're still just as amazed as they were.
Gildo's performance was so spectacular, the show's host literally leaped off the stage to hit the Golden Buzzer. Check out the inspiring audition in the video below.
Contortionist Auditions For 'Got Talent Portugal'
Gildo showed off some seemingly impossible contortion moves during his audition. He bent backward so far that the audience gasped, while the judges cringed at the painful-looking position.
WATCH SINGER CAPTIVATE AUDIENCE ON 'THE VOICE PORTUGAL' WITH HUGE ADELE HIT
The contortionist seemed to be made of rubber as he twisted into some of the craziest shapes imaginable. At one point, he bent his head so far back that it was resting on the back of his thighs.
Gildo also demonstrated amazing balance, as he stood on his hands while doing a split with his legs. The Got Talent judges were captivated by the performance, and three of them gave him a standing ovation.
Gildo Gets Golden Buzzer
Gildo became emotional when he saw the Got Talent Portugal judges and audience members standing up to applaud his performance. He cried tears of joy as the crowd chanted for someone to hit the Golden Buzzer.
The show's host, Sílvia Alberto, answered the call. She ran out from backstage and actually leaped off the front of the stage to hit the Golden Buzzer. Gold confetti rained down, and the judges looked emotional as Gildo continued to cry.
'ASIA'S GOT TALENT' CONTORTIONIST SHOOTS AN ARROW WITH HER FEET
Commenters on YouTube were amazed by Gildo's talent, as well as his humility.
"Such a humble guy despite having so much skill," one viewer wrote.
"My body hurts just by watching him," wrote another.
Where is he now?
Gildo was reportedly born in Angola, and was inspired by watching Jackie Chan's The Karate Kid to pursue contortion. He also looks up to contortionist Alexei Goloborodko.
Gildo is apparently studying nursing, but would like to join Cirque Du Soleil someday.
Let us know what you feel about this article