Derek Hough, Hayley Erbert Premiere Dreamy New Dance to 'Kiss the Girl'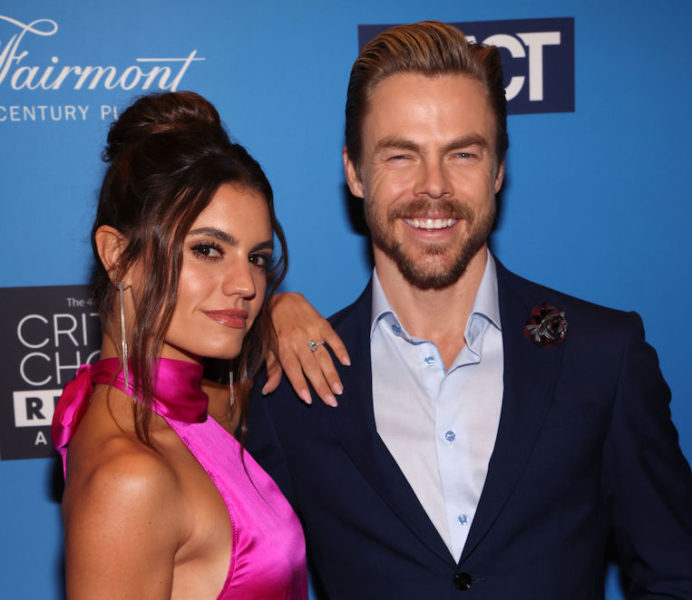 Photo by David Livingston/WireImage)
Dancing with the Stars judge Derek Hough premiered a new dance video on Thursday with his fiancée Hayley Erbert. The routine is set to "Kiss the Girl" from Disney's The Little Mermaid, and fans are calling it a fairytale performance.
Derek Hough, Hayley Erbert Dance to 'Kiss the Girl'
For the new video, Hough sang "Kiss the Girl" himself, inspired by a rendition of the song by Brent Morgan. This version turns the song into more of a slow ballad, and it works well with the dreamy quality of Hough and Erbert's dance routine.
The video starts with an ethereal shot of Erbert rising out of the water as Hough watches from the trees. The couple is surrounded by floating lights as they start the dance with their feet in the water. The routine features some beautiful lifts and spins as the pair shows off their chemistry.
Fans made sure to share how much they enjoyed the new video in the comments, with one account writing, "This video is absolute magic!! Like a real life fairytale!!" Someone else wrote that they "especially liked when Hayley flipped her hair back at the end, like Ariel in the movie."
SEE ALSO: DEREK HOUGH, HAYLEY ERBERT TO PERFORM SPECIAL DANCE AT THEIR WEDDING
The Couple Plans to Release a Behind-the-Scenes Video
Derek Hough promoted the new "Kiss the Girl" video on his Instagram stories Thursday, explaining that he loved Brent Morgan's version of the song and "wanted to have a crack at it." He spoke about the "magical world that we created" for the video.
The former DWTS pro also told fans that they can expect to see a behind-the-scenes video about the making of the dance on YouTube next week. The Dancing With the Stars judge teased that fans will be able to "see how we all put it together, and how fast it all came together."
Hough and Erbert also recently joined forces in the DWTS ballroom for a dance set to Michael Bublé's live performance of his song "Higher." Hough directed and choreographed Bublé's music video for the song, which also features Erbert.
Let us know what you feel about this article