Both Couples Nail the Iconic Lift in 'The Real Dirty Dancing' Finale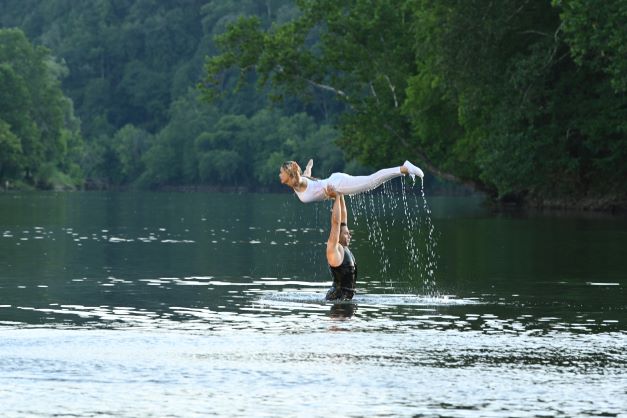 Antony Platt/FOX
The big question going into The Real Dirty Dancing finale on Tuesday night was whether or not the remaining two couples would pull off the iconic lift from the film's final dance number. At the end of the night, Cat Cora and Corbin Bleu were named the winners, but both couples totally nailed the most famous move.
Couples Nail the Lift in 'The Real Dirty Dancing' Finale
Tuesday's The Real Dirty Dancing finale came down to two couples — Cat Cora and Corbin Bleu, and Anjelah Johnson-Reyes and Tyler Cameron. Both couples recreated the movie's final dance, even down to the iconic "Nobody puts Baby in a corner" moment.
Both couples pulled off the routine with confidence and chemistry. They performed in front of a live audience who had the task of deciding which couple should win. Although the contestants had mats to protect them during rehearsals, they had to go without them during the official dance.
The couples had performed the famous lift in the water before the final performance. Anjelah and Tyler got the hang of it more quickly, but both couples nailed the move during the official dance, even holding it for several seconds as the crowd cheered.
"It was angels that grabbed her and lifted her up," Corbin said afterward, in disbelief that it actually worked.
SEE ALSO: 'THE REAL DIRTY DANCING': CORBIN BLEU IS THE FIRST MAN CAT CORA HAS KISSED
Cat Cora, Corbin Bleu Announced as Winners
At the end of the night, the audience voted Cat and Corbin as the ultimate "Baby" and "Johnny." They've been the frontrunners pretty much since they first teamed up as partners. Corbin has previous dance experience in the High School Musical movies and on Dancing with the Stars.
"For all those women out there — moms, women who are my age — I just wanna say, you can do anything. Anything," Cat said after she and Corbin were announced as the winners.
Anjelah and Tyler also put on a great show. Considering that just a couple of weeks ago Anjelah was crying because she was disappointed in her performance, making it to the finale is a huge accomplishment.
Let us know what you feel about this article