'The Voice's Jershika Maple Teases 'Inseparable' Cover for Valentine's Day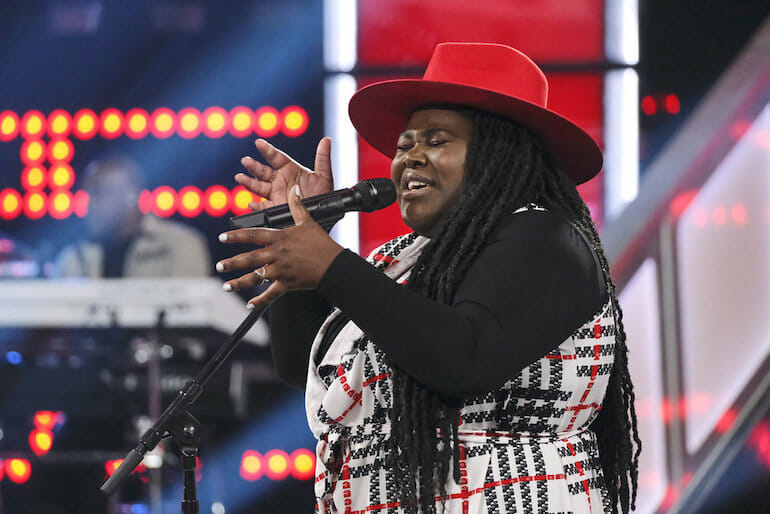 Trae Patton/NBC
The Voice Season 21 star Jershika Maple is treating fans to a new song cover for Valentine's Day. The singer, who reached the Top 5 on John Legend's team, will release a studio version of Natalie Cole's "Inseparable," which she performed in the Knockouts.
Jershika Maple Teases New Song Cover for Valentine's Day
Maple posted the cover art for her new release on Instagram. In the black and white image she shared, Maple lounges on a chair while wearing a long gown. The singer announced that the song will be released on February 14 for Valentine's Day.
"What better way to show love on this day than to bless you all with the beautiful rendition of 'Inseparable' by the late Natalie Cole," Maple wrote in the caption of the post. "I'm so excited about this one & can't wait for you all to hear it!"
Natalie Cole released the soulful ballad "Inseparable" in 1975, on her debut album of the same name. Maple performed the song in the Knockouts of Season 21 against Paris Winningham. The performance inspired a TikTok trend called the #shikarunchallenge in which other singers tried to recreate one particularly impressive run from the song.
SEE ALSO: JERSHIKA MAPLE, JOHN LEGEND DISCUSS THEIR CHURCH BACKGROUNDS ON 'TRAILER TALK'
Fellow 'The Voice' Artists Support Maple on Instagram
Maple's Instagram post about her upcoming cover received enthusiastic replies from a couple of fellow The Voice alums. One is fellow Team Legend artist Joshua Vacanti, who wrote, "Screaming!!!!!!!!" He added several heart emojis.
Season 17 contestant Rose Short, who encouraged Maple to audition for the show, also replied. "Yyyyessssssssss!!!!!" she wrote in the comments.
You can pre-save Maple's cover of "Inseparable" on Spotify before next week's official release. In the meantime, you can also listen to several of the singer's other The Voice covers, including "God Only Knows," "Rolling in the Deep," and "Don't Let the Sun Go Down on Me."
Let us know what you feel about this article