Meet 'The Voice' Star Jershika Maple, Team Legend's Soulful Steal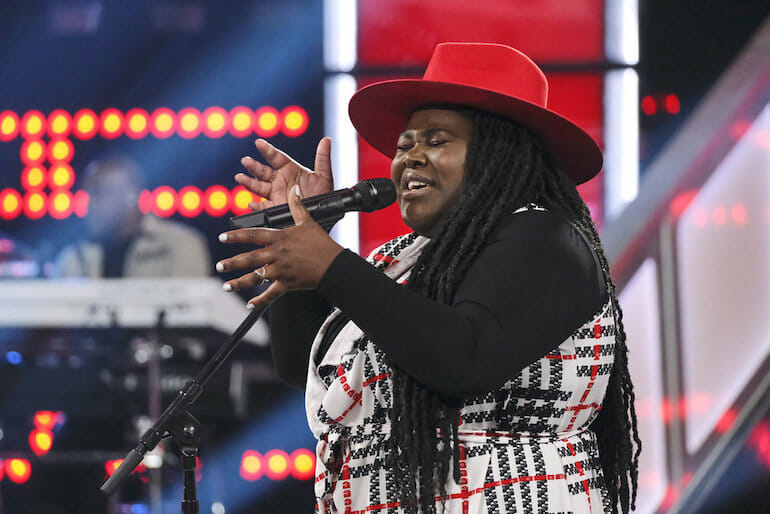 Trae Patton/NBC
Jershika Maple has officially made it to the Top 11 on The Voice Season 21. The 25-year-old singer joined Kelly Clarkson's team after her Blind Audition and was later stolen by John Legend during the Battles.
As it turns out, that was a great decision on Legend's part, as Jershika has been voted through by viewers twice during the live shows without being saved by either her coach or the Instant Save.
'The Voice's Jershika Maple Is a Security Guard by Day, Singer by Night
Jershika Maple is originally from Shreveport, Louisiana, but she currently lives in Killeen, Texas. According to her The Voice bio, Jershika's family moved around a lot when she was a kid due to her father's military service. She grew up singing in church and joining choirs.
The singer told local news that she's been singing since she was 3 years old, saying her mother and uncle noticed her singing along to Barnie and recognized her talent. "So, my mom put me in the church choir, I was in the children's choir, every choir you could think of ever since," she shared. "I was big in the choir scene."
Jershika also struggled with dyslexia in school and had to repeat the fourth grade. She faced bullying from her classmates, but two of her elementary school teachers helped her through it. She performed "God Only Knows" by For King & Country during this week's show in honor of them.
Before she joined the show, Jershika was working as a full-time security guard, but she performed on nights and weekends. She hopes to use The Voice as an avenue toward making her music dreams come true, so she can focus on her singing career going forward.
"We are definitely not going back to being no security guard," she said before this week's live performance. "I'm gonna have some security guards. I'm hiring."
SEE ALSO: KELLY CLARKSON BAWLS HER EYES OUT OVER JERSHIKA MAPLE'S PERFORMANCE
Jershika Is Inspiring Others with Her Incredible Performances
Jershika was inspired to audition for The Voice with the encouragement of two former contestants. The singer is friends with both Myracle Holloway and Rose Short from Season 17 of the show. In an interview, Jershika said Rose told her to "just be myself."
The singer has delivered some incredible performances during her time on The Voice, including her cover of "Inseparable" by Natalie Cole during the Knockouts against Paris Winningham. One particular run from the performance has gone viral on TikTok as the #shikarunchallenge, as others try to recreate the stunning moment. Even fellow Season 21 contestants Bella DeNapoli and Ryleigh Plank have gotten in on it.
Jershika's Top 13 performance of "God Only Knows" was recorded and released online this week, but it's not her first single. In May of this year, she released the spiritual track "I Give." Before that, in 2019, she released the single "Let God Take You Higher." They're both available to stream and download.
In a recent Instagram live, Jershika shared that "gospel is home for me," and while she's interested in trying out different styles of music, she's most passionate about "inspirational music in general." She added that she wants to put out a full gospel album. She also plans to work with producer David Grand Jr. (who produced "I Give") on future projects.
You can see Jershika perform in the Top 11 next Monday night on NBC. Until then, follow her on Instagram and TikTok.
Let us know what you feel about this article