'The Voice' Coaches Share Fav Ariana Grande Songs Ahead of Premiere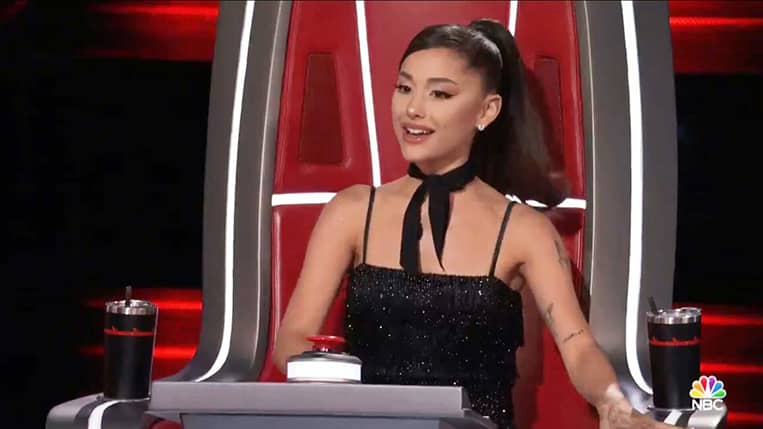 NBC
The Voice coaches are sharing their appreciation for the newest addition to their panel, Ariana Grande. In a new clip, the returning coaches share their favorite songs by the pop star, and she returns the favor.
The premiere of The Voice Season 21 is exactly one month away now, and we're loving all these sneak peeks at how the coaches are getting along. It looks like Grande will be an exciting addition to the show.
'The Voice' Coaches Share Favorite Ariana Grande Songs
Have you ever wondered what Kelly Clarkson's favorite Ariana Grande song is? As it turns out, the answer is "7 Rings." She explained that she loves when artists sample well-known songs, like Grande does with "My Favorite Things" on this track.
Grande returned the favor by sharing that her favorite Clarkson song is "Since U Been Gone," which she called "one of the best songs ever written." Now we're hoping the two singers perform a duet of at least one of these songs during the upcoming season.
John Legend shared that his family listens to Grande's songs in the car and around the house, and two of his favorites are "Imagine" and "POV." He said he knows a lot of her songs by heart because he listens to them so much.
And if you're wondering whether country star Blake Shelton even knows any of Grande's songs, the answer is apparently yes. Even though the pair shockingly never met before the show, Shelton shared that his favorite song of Grande's is "Thank U, Next." We wouldn't be surprised if he makes a joke using this title during the season.
SEE ALSO: BLAKE SHELTON GETS REAL ABOUT ARIANA GRANDE JOINING 'THE VOICE'
The Season 21 Premiere is Only a Month Away
We only have to wait one more month until The Voice Season 21 premieres on NBC. The season kicks off on Monday, September 20, as the Blind Auditions start. Last year's coach Nick Jonas had to sit this season out, so Grande stepped into the spinning red chair.
The show also recently announced this season's Battle Advisors. The coaches will be joined by Camila Cabello (Team Legend), Jason Aldean (Team Kelly), Kristin Chenoweth (Team Ariana), and Dierks Bentley (Team Blake) to prepare their team members for the Battle rounds.
Like America's Got Talent, this season will feature a live audience. Fans were required to be fully vaccinated and have a negative COVID-19 test before the tapings for Blind Auditions. We can't wait to see what kind of talent the coaches discovered this season.
Let us know what you feel about this article