Peta Murgatroyd, Maksim Chmerkovskiy Are Working With a Fertility Doctor Following 3 Miscarriages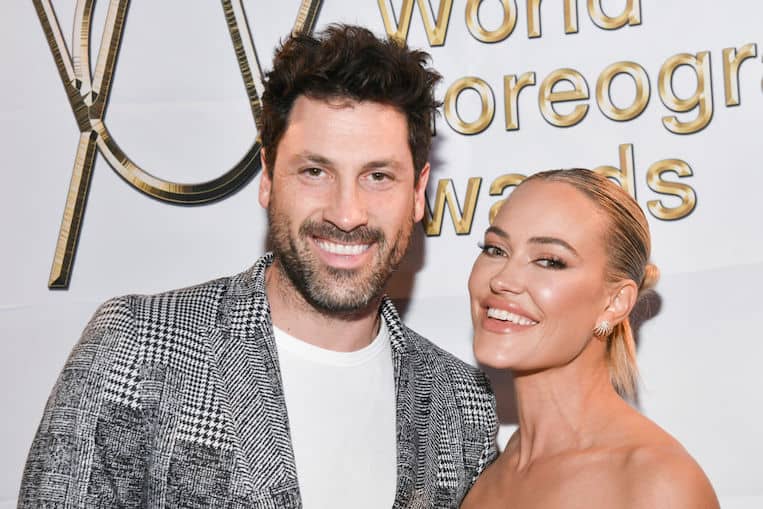 Photo by Rodin Eckenroth/Getty Images
Former Dancing With the Stars cast member Peta Murgatroyd got candid about her experience miscarrying while her husband, Maksim Chmerkovskiy, was away. In a recent interview, the professional dancer revealed that she's miscarried three times.
Peta Murgatroyd recently got candid about her past miscarriages. In an exclusive with People Magazine, the professional dancer revealed that her most recent miscarriage occurred while her husband, Maksim Chmerkovskiy, was in Ukraine.
Murgatroyd explained that her first miscarriage happened in 2020, amid Dancing With the Stars. The professional dancer found out she was expecting three weeks into the pregnancy, but had a miscarriage two weeks later. Murgatroyd never told her Dancing With the Stars castmates about the miscarriage. She explained that she was "completely embarrassed, ultimately ashamed."
After eight months, the professional dancer was once again enroute to welcome her second child into the world. The dancer explained that she had a cute way to tell Chmerkovskiy that they were expecting, but this miscarried again. She noted that her husband was in New York when she found out she miscarried again. Murgatroyd gave herself the night to let her emotions out, then boarded a plane to New York and performed the next day.
Peta Murgatroyd Miscarried While Having COVID-19
Later, Murgatroyd explained that she flew to Ukraine to visit Chmerkovskiy to attempt again in October 2021. On her way back from Ukraine she contracted COVID-19, so she recalls being sick for most of the flight. Once she made it back to Los Angeles, the dancer lost her strength, noting "I couldn't open a dishwasher. I couldn't open the fridge to feed Shai, to get him some toast."
Her loss of strength got so bad that she called an ambulance after a bunch of tests, Murgatroyd was told what was affecting her body. She had gotten pregnant in Ukraine, but once again lost the child because her body was unable to fight the illness and carry the child.
"I thought he [the doctor] was going to reveal some really bad news. I was like, 'What's wrong?' His face dropped," she said. "He said, 'Did you know you were pregnant?'"
Chmerkovskiy was on the phone while the doctor gave Murgatroyd her diagnosis. The professional dancer celebrated on the other side of the phone, but she had already lost the baby. Chmerkovskiy went on to explain that it was hard to be away from her during that time.
The Couple Hopes to Welcome Their Second Child in The Near Future
In present day, Murgatroyd and Chmerkovskiy are working with a team of fertility doctors to welcome another child via vitro fertilization. Even though Murgatroyd has gone through three miscarriages and has been diagnosed with Polycystic Ovary Syndrome, she explains that she's hopeful about the experience. The couple is excited to welcome their second child into the world.
This Dancing With the Stars couple began dating on and off in 2012, but confirmed that they were going steady in 2015. Chmerkovskiy proposed to Murgatroyd in 2015, while onstage for a performance of Sway: A Dance Trilogy in Miami, Florida. The couple later welcomed their first child in January 2017 and got married in July 2017.
Let us know what you feel about this article