'AGT's Positive Impact Movement Shares Terrifying Video of Rehearsal Accident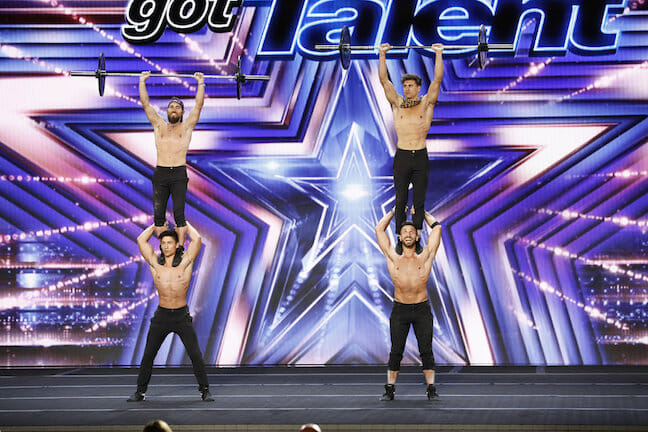 Trae Patton/NBC
America's Got Talent act Positive Impact Movement might make their acrobatic weight-lifting routine look easy, but it's anything but. In fact, the act can be extremely dangerous, as shown by a rehearsal video one member shared.
Luckily, everything went fine during the group's audition in Season 16, but it wasn't an easy road to mastering one of the most impressive and risky moves in the performance.
'AGT's Positive Impact Movement Shares Dangerous Rehearsal
Positive Impact Movement member James Heugh shared an Instagram video in which he and his teammates practice a "barbell throw." It involves two of the men standing on their teammates' shoulders while throwing barbells back and forth to each other.
Heugh said this has been "the most commented on move" from their AGT performance. But as the video shows, it was hard road to mastering it. While throwing the barbells back and forth, one of them falls, and the bar hits Heugh in the knee. As he said, "This ended in pain."
Fortunately, Heugh said there was "no serious damage," and he was able to continue training that day even though he says his leg was "throbbing." He also gave a shoutout to teammate Travis Brewer for jumping off his partner's shoulders with a barbell in his hand and sticking the landing.
This video just goes to show how much hard work and sometimes even pain goes into practicing for these kinds of Got Talent routines. Before their audition, the men even shared how many injuries they've suffered and managed to bounce back from.
SEE ALSO: HEIDI KLUM ATTEMPTS TO LIFT HEAVY BARBELL ON 'AGT' AFTER OUTSTANDING AUDITION
Will This Act Make It to the Live Shows?
Positive Impact Movement received four "yes" votes from the judges to move on to the next phase of the competition. Because they didn't get a Golden Buzzer, they won't automatically go to the live shows. Usually, they would compete in the Judge Cuts, but things are different this season.
Instead of the Judge Cuts, the judges got together off screen to narrow the competition down to 36 acts. We'll find out which acts made it to the live shows when AGT returns after the Olympics. Will Positive Impact Movement be one of them?
The judges seemed to really enjoy the group's audition, with all four of them giving a standing ovation. This — combined with how unique the act is, and how much viewers enjoy seeing shirtless men — makes us think the team has a pretty good chance of going to the live shows. But we won't know for sure until the live shows officially kick off August 10 on NBC.
Let us know what you feel about this article