'The Voice' Recap: The Coaches Fill Their Teams, Wrapping Up Blind Auditions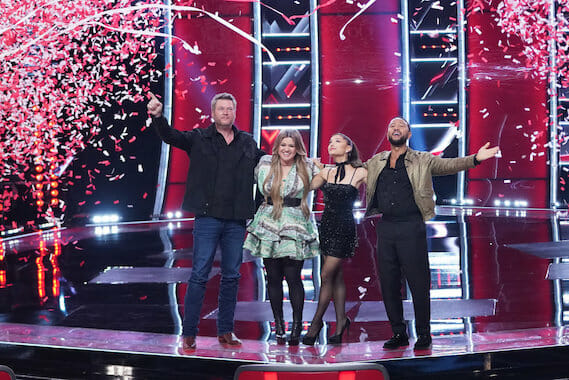 Tyler Golden/NBC
The Voice Season 21 Blind Auditions have come to a close. Ariana Grande, Kelly Clarkson, Blake Shelton, and John Legend have all filled their teams with 12 artists each. Tonight's episode was jam-packed with incredible performances. They definitely saved some of the best artists for last.
Ariana Grande Fills Her First-Ever Team on 'The Voice'
The night began with a huge plot twist when Aaron Hines chose to be on Team Kelly. He spoke before his Blind Audition about how much he adores Legend's music. Aaron always performs "All of Me" at his own gigs. He auditioned with "Heartbreak Anniversary," earning a four-chair turn. He seriously deserved it. His performance showcased so many different layers of his voice.
Aaron also sang a few bars of "All of Me" with Legend. He totally threw all of us for a loop when he chose to be on Team Kelly. Even The Voice's backstage cheerleader/host Carson Daly was stunned by Aaron's decision. My jaw was literally on the floor. As of right now, Clarkson's team is looking like the one to beat. She is the queen of winning four-chair turns.
This episode was huge for Grande who got to fill her first-ever team on The Voice. In her inaugural season as a coach, Grande scored some heavy hitters on her team. Sister trio KCK3 performed Grande's song "No Tears Left To Cry" for their Blind Audition. Grande knew that she wanted to turn her chair for these incredible sisters who completely remastered her song. To celebrate filling her team, Grande gave us a little taste of musical excellence before doing a mic drop. She was pitch-perfect as always.
John Legend Gives the Fans an Amazing Musical Moment
Legend also put on quite the musical performance after Shadale Johnson earned the last spot on his team. Shadale has been traveling the world with a gospel group. The single mom performs at weddings and corporate events. Her performance of "That's What I Like" in the Blind Auditions was such a vibe. I don't know if we have ever seen Clarkson turn her chair so quick with Legend following close behind. He really felt like Shadale energized the arena and thinks she will make it to the finale. I totally agree. She has a perfect stage presence.
It was a bit of a letdown that Shelton did not sing when he filled his team. He landed Tommy Edwards, a father of two from Montana. Tommy shared that he sings with his father in every band he plays in. This was the "aw" moment of the night. He performed "Drops of Jupiter," a staple song for talent show contestants. Shelton and Legend both turned their chairs. Tommy chose to be on Team Blake because Shelton was very enthusiastic about his rocker voice.
The Voice Blind Auditions have been lacking a bit in the rock genre this season. We have seen quite a lot of pop, R&B, and gospel artists, so it was time to have some representation for the rock genre and we definitely got that from Tommy. America usually loves singers with raspy voices. Will he be able to hold his own against all of the Team Blake country artists in the Battles?
The Last Blind Audition of the Season
The Voice Blind Auditions ended with Parker McKay whose life has always centered around music. She shared that her mom was her biggest supporter. She moved to Nashville at 23 and decided she had to be in country music because everyone else was doing it. She took what she learned from country music and invested it into pop music. Her mom was diagnosed with dementia and passed away before The Voice. She broke down in tears right before her audition backstage.
Parker's performance of "Slow Hands" had some really great vocal runs. Clarkson turned her chair during the most incredible run in the song. She automatically became a member of Team Kelly. It was such an emotional moment for Parker who shared that she lost her mom as she hugged Clarkson. It will be interesting to see who Parker is paired with in the Battles. Hopefully, her voice does not get overpowered by some of the other vocal threats on Team Kelly.
Let us know what you feel about this article