10 Best Ariana Grande Memes From 'The Voice' Blind Auditions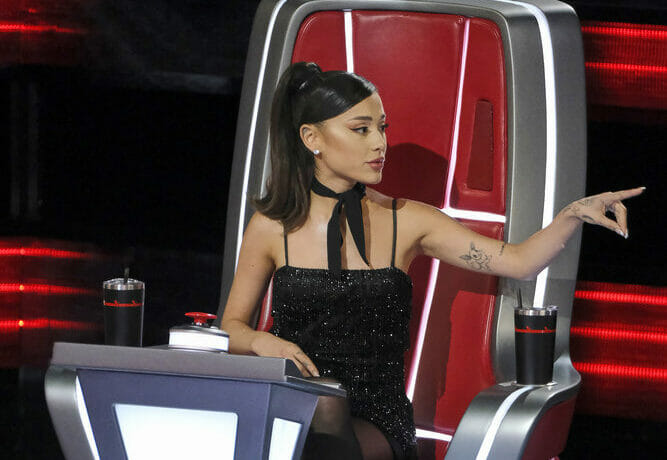 Trae Patton/NBC
There's nothing better than logging on to Twitter or Instagram before the newest episode of The Voice begins. Ariana Grande fans definitely have a great sense of humor when they share their memes before the show premieres.
Arianators do not disappoint when it comes to memes about Team Ariana and The Voice as a whole. I've recently become obsessed with logging into Twitter before The Voice just to see these funny posts. No matter what, these posts can always make me LOL.
10 Best Memes About Ariana Grande on The Voice
1. There's No Way to Know Who Will Turn Their Chair for You…
Why is this photo exactly how they all look though?
2. When the Clock Hits 7 p.m. so You Strut to Your Television.
I get it girl, you can't miss the newest episode of The Voice.
3. When It's Spooky Season, but You've Still Got to Support Team Ariana
No shame, this is probably the best fall-fit we've seen yet.
4. When You're the Biggest Grande Fan and Are Logging on to Live Tweet During The Voice
Team Ariana checking in!
5. When Team Kelly is Starting to Show Promise for the Season
Who said good contestants were allowed to choose Team Kelly? Can we talk?
6. When Ariantors Want to Prove Who Will Take the Competition This Year
Who needs Blake Shelton? Season 21 is Ariana Grande's season.
7. That Moment When You Get a Little Too Hyped for The Voice and Show No Shame
Show us your dance moves sis.
8. When There's One Spot Left on Team Ariana and There's Another Episode Tomorrow
9. When Other Things are Happening in the World, but Ariana Grande is on The Voice
10. When Someone Chooses Team Blake Over Team Ariana
Let us know what you feel about this article