Need a Laugh? Watch the Best Ever 'America's Got Talent' Comedians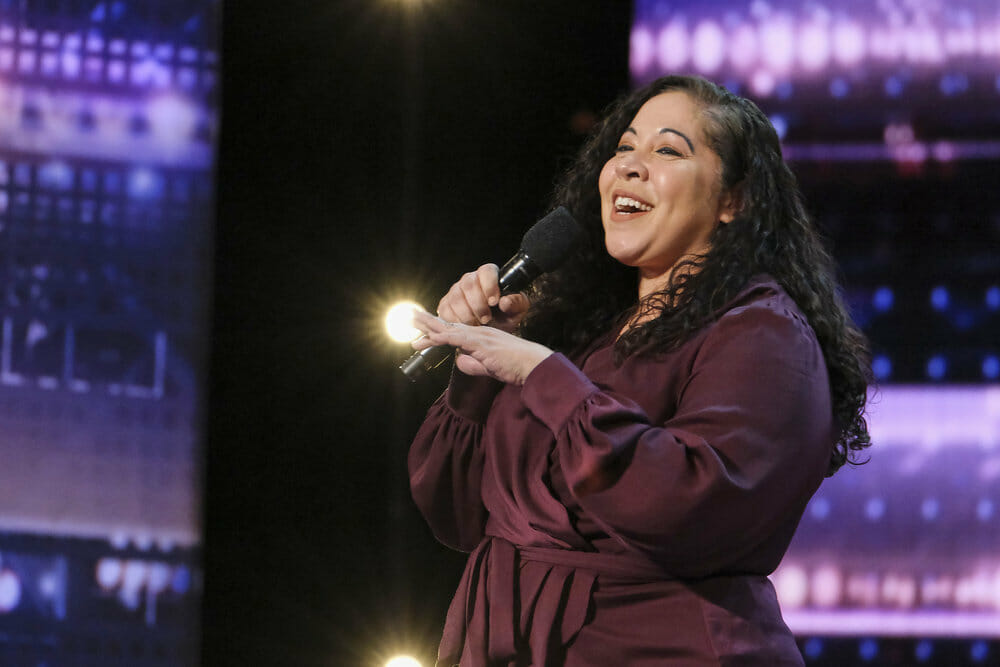 Trae Patton/NBC
Stand up comedy is one of the hardest careers anyone can embark on. You can ask the best comedians around and they will tell you to find something else. Still there are those who believe in their art. It is hard enough pursuing comedy at a local pub, but try doing it on one of the biggest talent stages in the world. Here are some of the best comedians ever seen on America's Got Talent.
Vicki Barbolak
Vicki Barbolak started her stand up comedy career when she was 38 years old. She saw mild success when she won Nickelodeon's Funniest Mom in America competition. That competition helped her work alongside the likes of Rosie O' Donnell and Jay Leno. By the time Barbolak arrived to audition for Season 13 of America's Got Talent, she was a seasoned vet that had a rollercoaster life.
America quickly fell in love with Barbolak. Her honesty, her rawness, and her comedic timing made her a hit with the judges. Simon Cowell told her that she was the best comedian to grace the AGT stage. Barbolak finished in the Top 10. Now, her tours continue to sell out and she has her own podcast. Barbolak also runs her wedding chapel business in Las Vegas.
Cam Bertrand
Cam Bertrand did not make it past deliberations during Season 16 of America's Got Talent, but his comedy set left a lasting impression. Bertrand was a 27 year old Florida native when he walked on to the audition stage. His comedy act was relatable and kept the judges intrigued. His joke about being denied alcohol at his age kept the audience in stitches. Instead of trying to fit multiple jokes in, he built off of his initial material. He touched on wine, bourbon, age and emotions. Bertrand continues to pursue comedy and have built a solid fanbase. He is also the host of his own podcast and recently headlined his half hour comedy special, "Sophisticated Ignorance," on Drybar.
Gina Brillon
Gina from the Bronx! The New York native was subtle in her delivery, but her comedy packed a hilarious punch. Brillon took to the America's Got Talent stage and was not shy about realizing her dreams were coming true. Brillon began her audition set talking about her marriage and ended talking about her twin sister. The judges gave her a standing ovation. Brillon made it to the Top 10. She was so talented that she made Simon Cowell backtrack criticism that he gave her during one of her sets.
Brillon's success continues to rise. She had her own HBO Latino half-hour special Easily Offended. For that special she was nominated for Best Primetime Program Special or Movie at the 36th Annual Imagen Awards. She continues to sell out comedy clubs across America. Brillon was also recently cast in an untitled Kevin James project.
Preacher Lawson
Simon Cowell told Preacher Lawson that he had star quality. During Season 12, Lawson kept the judges laughing. His energy always lit up the room. He even got a standing ovation from Simon Cowell. He was a character who looked as though he was performing for decades. During his time on America's Got Talent: Champions he came in the Top 5.
Lawson continues to tour and he also had his own BET+ comedy special. He returned to the America's Got Talent stage in 2021 for a guest performance. His return was to promote his hosting duties for the America's Got Talent live stage show.
Paul Zerdin
Paul Zerdin won Season 10 of America's Got Talent. He was the second Ventriloquist act to take home the championship. The British comedian wowed the judges week after week. He was an act the whole family could enjoy, which impressed Howie Mandel. Because Zerdin made guest judge Marlon Wayans "feel joy," he received the Golden Buzzer. These days Zerdin is hosting his Sponge Weekly YouTube show. He also continues to tour the UK.
Samuel J Comroe
Samuel Comroe did not let his disability stop him from walking on to the America's Got Talent stage. Before he began his audition he informed the crowd about his Tourette Syndrome. Comroe leaned into the cards that he was dealt and had a successful run during Season 13. He was able to come in fourth place.
Throughout the season Comroe was not afraid to show that he was a true comedian, who has been working in comedy for 10 years. His acts touched on topics that are often left to comedy nightclubs. Still, America fell in love with the Los Angeles native. Comroe is kicking off his 2022 tour in January and currently hosts his own podcast. You can also see him using Twitter for practice with his punchlines.
Darci Lynne Farmer
Another Ventriloquist, but Darci Lynne Farmer did it with a twist. She was the Season 12 champion who won over the hearts of viewers. Farmer was so good, she received Mel B's Golden Buzzer. Her act was different from the previous Ventriloquist's who won. Farmer added singing to her act. She was only 12 when she won her Season, but soon after her career picked up.
Farmer performed at Madison Square Garden. She went on a 52 city tour and returned for America's Got Talent: Champions. Farmer is gearing up for the final year over her My Lips Are Sealed (Except When They're Not) Tour. She embarked on the tour in 2021 and it continues to be a success.
Taylor Williamson
Taylor Williamson was the runner-up on Season 8 of America's Got Talent. He used what he had to win the judges over. His awkwardness added to his comedic act week after week. Howard Stern appreciated his quick wit that he had with the judges during his initial audition. Other contestants saw Williamson as a threat, as they would watch him connect with the judges. Williamson was recently the first comedian to perform on The Nick Cannon Show, reuniting him with Cannon.
The Skylar Brothers
Twins performing a comedy act is unusual, but at least they could share equal blame if they bomb. The Skylar Brothers were a comedy act during Season 16. Their routine of grumpy old fathers who both are experiencing similar situations was a hit with Howie Mandel. Although the comedic duo was already known in the comedy world, it was refreshing to see how a show like America's Got Talent could help restart careers. Since their return to the spotlight, they continue to tour and write.
Let us know what you feel about this article