Grimes Releases Artistic Video For New Song "Shinigami Eyes"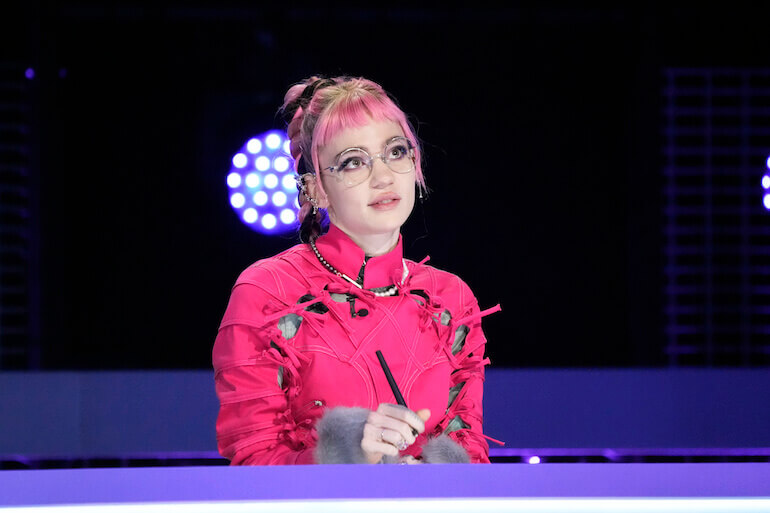 Greg Gayne/FOX
Grimes released a new music video for her new tune "Shinigami Eyes." The Alter Ego judge outdid expectations with this cool video. It's no secret that Grimes often pulls inspiration from video games and anime when creating her music videos and this one includes a futuristic tone.
Focus is on her eye, then it turns to images and other insert clips. After the name of the song, Grimes is seen sitting on a throne in an all white outfit. Her hair is in braids and her ears are poking out of her braids with extensions bringing them to a point.
The graphics in this video is definitely the best part of this futuristic video. The clearly computer generated graphics are super clear and bring something new to the video. Grimes is seen in two outfits throughout the entirety of the video. She begins in the all white outfit and braids, but can also be seen in with a short straight blue bob. When it comes to the outfits, they're both extremely similar. The only difference is the fact that the singer is showing more skin when she's rocking the blue bob.
There's a strong beat throughout the techno song. It moves very quick but it's hard to know what she's really saying. Normally, I like to focus on the lyrics when I listen to a song for the first time, but this video really drags you in. You become captivated by it to the point of not being able to look away because of the artistic qualities.
"This is visual eye candy, I could just easily pause and draw each frame. The composition and costume design are 100/100 !!!" a fan commented on YouTube.
Did Grimes Just Announce She's Pregnant Again?
Lately on Grimes' social media she's been asking fans which photo should be the cover of her upcoming album. She posted two photos, but one of them resulted in a bit of confusion. The picture featured her with an emphasis on a pregnant belly. Fans were quick to speculate that she is expecting her second child considering this is how she announced her pregnancy with X Æ A-Xii.
While many fans think that another baby is on the way for Grimes and her "semi separated" boyfriend of three years Elon Musk. it's been reported that this photo is most likely a digital render. If it is that type of art, Grimes wouldn't have to be pregnant for it to look that way. As of right now Grimes has not replied to any fan speculation publicly. The singer has also not been reportedly with anyone since her separation from Musk four months ago.
Let us know what you feel about this article