'Drag Race's Mistress Isabelle Brooks Embraces Sugar, Spice as Her New Drag Daughters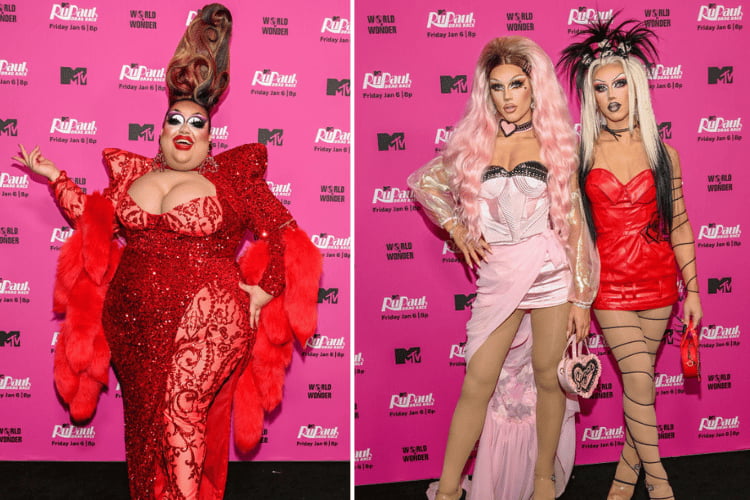 Photos by Dave Kotinsky/Getty Images for Paramount+
RuPaul's Drag Race season 15 contestant Mistress Isabelle Brooks has revealed the newest addition to her drag family, fellow contestants Sugar and Spice. These queens are among the 16 currently vying for the highest title in the series. In addition, Sugar and Spice are the first biological sisters to ever compete against each other in the show.
Mistress Isabelle Brooks is Now Drag Mother to Sugar, Spice
In recent post on Instagram, Mistress announced that she has adopted Sugar and Spice as her new drag daughters. According to the diva, it is "greatest unexpected blessing" to have the opportunity to expand her lineage in drag. Consequently, Sugar and Spice now possess Davenport and Brooks' blood, their drag mother's renowned descent.
"You all know what drag family means to me, so just know I don't play when it comes to my daughters," Mistress wrote. "I love you both Sugar and Spice and I'm so proud of all of your accomplishments and that I get to experience this moment in time with you both."
During the season premiere, the twins stated that they were "dying to be a part of a drag community." This is so because their exposure to the drag scene was few and far between. For those who may not know, Sugar and Spice rose to fame through viral TikTok videos unlike other queens who immersed themselves in the drag arena.
Drag Race season 15 somehow highlighted the twins' lack of "real-world" drag experience, causing tension between them and the rest of the cast. Fortunately though, Brook has established a connection with them after a few minor scuffles.
Fans are Happy to Know the Great News
Sugar and Spice immediately commented on the Instagram post, calling Mistress their "mama." Spice even jokingly wrote that they don't have to pretend hating each other on the show anymore.
Meanwhile, fans gleefully talked about this news on Reddit. Evidently, they are thrilled and touched to know that the twins finally have newfound mom despite intense competition.
"Sugar and Spice finally found their everything nice!" one person wrote.
A few pointed out that "cool" fact that Mistress is only a year older than the twins. On the other hand, some fans are relieved that Sugar and Spice seemed to be "adorable" and "self-aware" contestants.
With the two becoming more and more experienced through the show, fans are excited to see how Sugar and Spice will grow as drag queens. RuPaul's Drag Race are available to stream on Philo, Paramount+ and Hulu.
Let us know what you feel about this article