Blake Shelton Thought Snoop Dogg Fell Asleep on 'The Voice' Set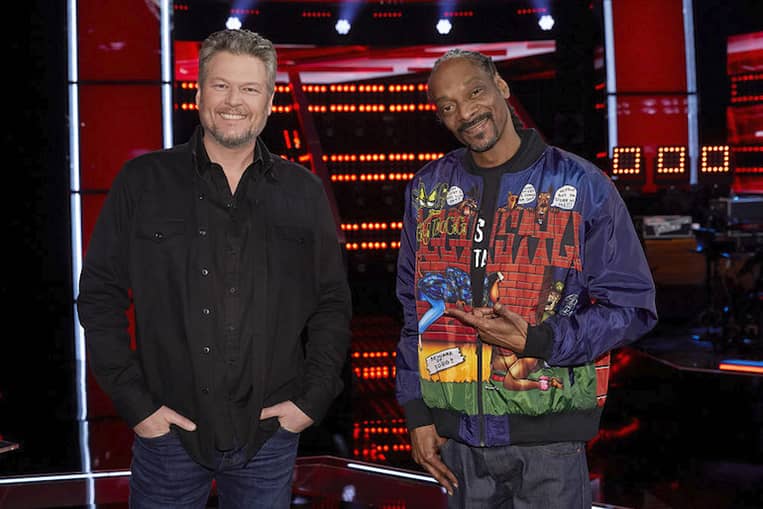 Trae Patton/NBC
Blake Shelton stopped by Good Morning Football this week to talk about the NFL, and he also shared a funny story about his friend Snoop Dogg. The rapper was a Mega Mentor on The Voice in Season 20, and he had an unusual on-set habit.
Blake Shelton Talks About Snoop Dogg on 'The Voice'
The Good Morning Football hosts mentioned that Shelton recently joined Snoop to talk about Sunday Night Football. Shelton joked that he was "still high" after spending time with Snoop.
Shelton recalled Snoop's time as a Mega Mentor for The Voice artists. He shared that there were times during rehearsals when Shelton thought Snoop had fallen asleep, but it turns out he was actually listening to the artists sing.
"I was like, 'Oh my God, we're on television, and Snoop just fell asleep while this person's singing,'" Shelton shared. "And then they would stop singing, and he would open his eyes and go, 'Yeah, I think you need to do this…' Like, how does he do this? He's the most amazing person I've ever met in my life."
SEE ALSO: BLAKE SHELTON SINGS WITH YOUNG FAN WHO NEEDS HEART TRANSPLANT
Shelton Wants Gwen Stefani to Return to 'The Voice'
The hosts also asked Shelton to name a singer he would want to see join the show as a coach. "I'm gonna have to go with my wife on that one," Shelton replied. "I think I should. We're live right now, right?"
However, Gwen Stefani has already been a coach on the show, on and off for five seasons. In fact, that's where she and Shelton met. So we have to assume Shelton is saying he wants his wife to return to the show in a future season.
The Voice is changing up its schedule this year and won't return until the fall, so it's possible the coaching lineup could change before then. Maybe Stefani will return after winning for the first time with Carter Rubin in Season 19.
Let us know what you feel about this article