Snoop Dogg, Blake Shelton Team Up for Sunday Night Football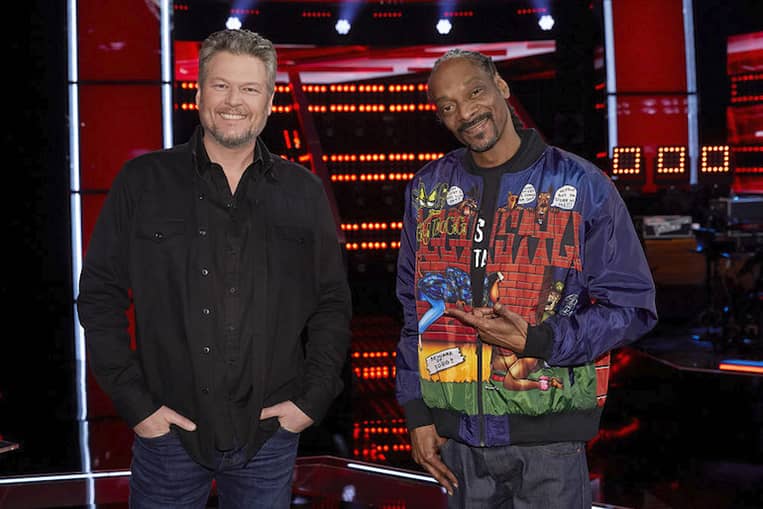 Trae Patton/NBC
Snoop Dogg's bromance with Blake Shelton, which began on The Voice last year, continued to blossom over the weekend as Shelton joined the rapper for Sunday Night Football. Snoop has been sharing his thoughts on the season for a while now.
Snoop Dogg, Blake Shelton Comment on Sunday Night Football
Last November, Snoop announced that he would be joining Chris Simms and Kathryn Tappen on Sunday Night Football Final on Peacock. The rapper previously recapped the Tokyo Olympics on Peacock with comedian Kevin Hart.
This week, The Voice coach Blake Shelton joined Snoop to cover Sunday Night Football. Snoop was the Mega Mentor on Season 20 of The Voice last year. During their football recap, Shelton shared that his team is the Arizona Cardinals, while Snoop's is the Pittsburgh Steelers.
The pair went on to highlight some of the best moments of the 2021-2022 NFL season. One crazy moment involved the Seahawks' real hawk mascot landing on a fan's head. Snoop joked that he would appreciate the hawk scratching his scalp.
SEE ALSO: DID HEIDI KLUM JUST TEASE A SONG COLLABORATION WITH SNOOP DOGG?
Shelton Calls Snoop His 'Buddy' on Social Media
Shelton promoted his appearance with Snoop on Twitter and Instagram, calling the rapper his "buddy." Meanwhile, Snoop called Shelton his "bro" in his own tweet about Sunday night's show. It's fun to see their unlikely friendship grow since their time on The Voice.
The two of them had plenty to laugh about during their highlights recap, including the funny moment when Vita Vea of the Tampa Bay Buccaneers tried to remove his jersey in the background of his teammate's interview. As Shelton joked, "It looks like when you crack open a can of biscuits."
Last year, Snoop talked about his newfound friendship with Shelton in an Entertainment Tonight interview, saying, "If we would've been in school together, we both would've been getting suspended, class clowns, throwing stuff at the other students. Like, he's one of my guys."
Let us know what you feel about this article