Adam Lambert Was Banned From ABC, The Network Threatened to Sue Him After Kissing a Man On-Air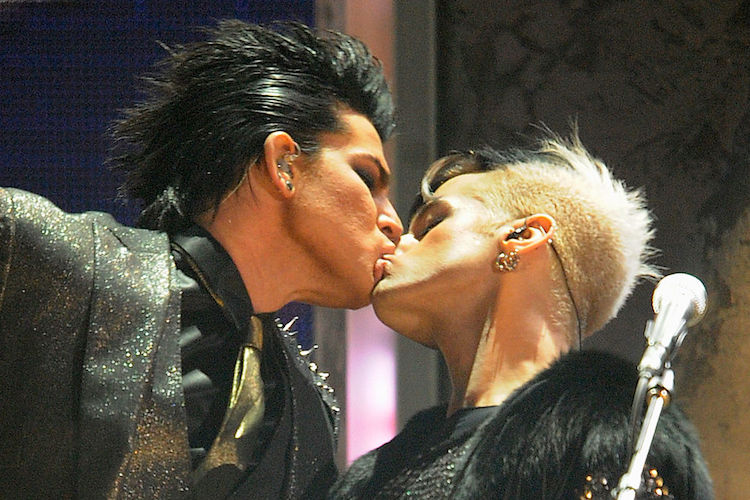 Photo by Kevork Djansezian/Getty Images
Music fans remember the controversy behind Adam Lambert's 2009 American Music Awards performance, when he kissed another man on live tv. Now, it's been revealed that ABC temporarily banned and threatened Lambert with a lawsuit.
ABC Issues Ban and Lawsuit For Adam Lambert, Due to On Stage Kiss
The singer opened up about his homophobic experience while accepting an award at the 2023 Creative Coalition Spotlight Initiative Gala. Lambert revealed he faced backlash from viewers who were unhappy with seeing the "impromptu kiss," live.
"I did the kind of performance I'd seen since I was a teenager, I was like, I want to be sexy and have dancers on stage," Lambert said. "I did a couple of suggestive moves with some of my dancers and an impromptu kiss with my bass player."
Lambert actually kissed his keyboardist that night and he detailed that he was in the moment while performing. After the performance, he was confronted by an executive of the network. The same executive threatened to sue the singer on behalf of ABC. To Lambert's defence, he admittedly didn't know that his suggestive performance would rub some people the wrong way.
The singer decided afterward that he's going to continue to "be as gay as I f*cking can be," no matter the consequences. He expressed his desire to not back down from the threats and will continue to be the flamboyant and wild character that he is.
Fans Appreciate The Fact That He Embraces His Sexuality
Despite ABC's apparently unfavorable reaction, Lambert claims that being an openly gay performer has helped him with his success. Members of the LGBTQ+ community look up to Lambert for being unapologetically himself. Which has helped him connect with more fans.
"Over the past few years, I keep meeting more and more young people that saw me when we were a kid on TV and they're like… 'You helped me talk to my parents about being gay,'" Lambert said.
Lambert currently continues to wow fans around the world, having some trouble in the industry isn't going to stop that. It is admirable that instead of changing his image for the public eye, Lambert chose to embrace his sexuality more.
Let us know what you feel about this article