The Coaches Give Ariana Grande Advice Ahead of 'The Voice' Premiere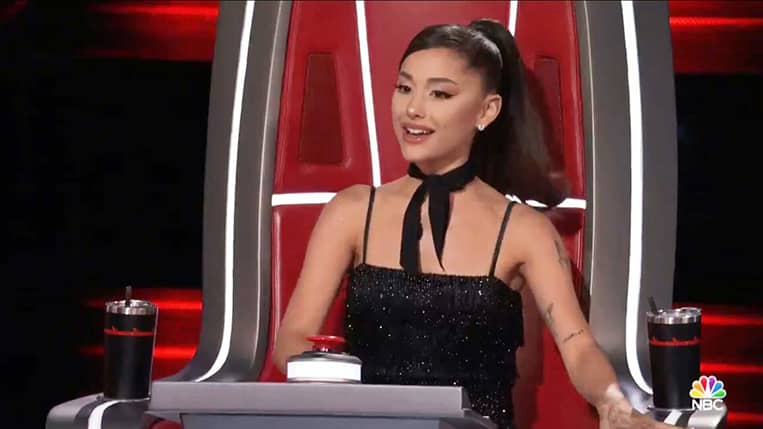 NBC
Season 21 of The Voice is right around the corner, and it's sure to deliver. The addition of Ariana Grande to the panel has fans eager to witness her coaching debut. Today, Kelly Clarkson, John Legend, and Blake Shelton rallied together to give the rookie their best coaching tips. Funny enough, the overall consensus for Grande's success this season was simply not to trust Shelton.
The Coaches' Advice to Ariana Grande
A video posted by The Voice's official Instagram features unique advice from each of the seasoned coaches. Three-time winner Clarkson was the first to offer tips to the brand new panelist.
"Welcome to the show, I am so stoked that you're gonna be sitting in a chair with us this season. Just, you know, two quick things. One, never trust Blake, even when he seems sweet…it's a trick so don't trust it. Two, bring tissues because you're gonna feel bad, you're gonna be so excited to get your team together and then they're gonna go away and they have to because that's the show," she said.
Next up, Legend appeared on screen to give his perspective to the new The Voice addition as a six-time coach. Legend is also won his first season on the show with contestant Maelyn Jarmon.
"Ariana Grande welcome to the voice, we are so excited to introduce you as our new coach for season 21. My only advice to you is that you have to beat Blake. Also, I haven't won since season 16, and I'm about due so let's make that happen too," Legend said.
Last to appear in the video was of course, none other than the original The Voice coach, Shelton. Soon, he will begin his 21st season on the show as an eight-time winner. With an abundance of confidence, it's safe to say his advice to Grande was less than helpful.
"Hey Ariana it's Blake and I wanted to say welcome to the show officially on social media. They asked me to give you a piece of advice but I'm not going to because I could care less if you do well on this show, it's my job to beat you."
The New Coach Responds To Their Tips
The end of the Instagram video features closing remarks from Grande herself, thanking her fellow coaches for their advice. In return, she left them with a little tip of her own, to "watch out."
Overall, Grande has expressed her excitement to be a part of the series on numerous occasions.
"I'm so honored and excited to join The Voice family!" Grande said in an interview. "I have been a huge fan of the show for such a long time. I can't wait to go head-to-head with the incredible coaches, get to know these new artists and help to take their craft to the next level."
Grande first appeared on The Voice in 2016 when she performed her hit "Into You." Since then, several contestants have covered her songs, including "pov" and "Stuck with You." Grande is has already begun to steal the spotlight in The Voice first look. She has even created a new competition tactic involving a button that plays "thank u, next."
The Voice season 21 premieres Monday, September 20 on NBC.
Let us know what you feel about this article