Golfer Paige Spiranac Begs Fans To Stop Sending Her Nudes After Mistakenly Inviting It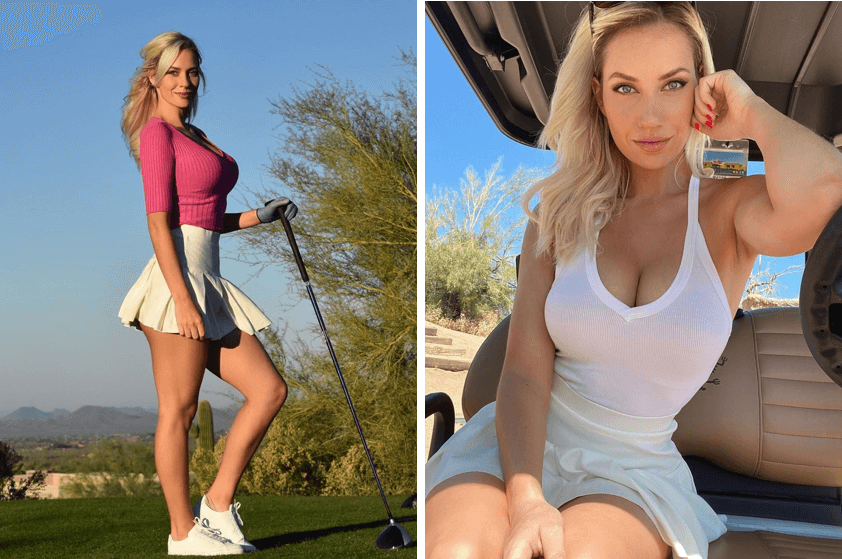 Instagram
Golfer Paige Spiranac talked about sexting on a recent episode of her podcast, and some people on the internet took it as an invitation to send her inappropriate messages. Paige spoke out about the situation on social media.
On her podcast "Playing A Round," Paige talked about the kinds of sexy messages she likes to send and receive. After an inaccurate quote was posted on Twitter, Paige apparently started receiving unwanted messages. She said her DMs were "a dumpster fire."
Paige Spiranac Nude Requests After Podcast Episode On Sexting
In a recent episode of her podcast, Paige Spiranac talks about what she considers the dos and don'ts of sexting. At one point, she shares her belief that if a guy asks a girl for sexy photos, he should send them in return.
RELATED: EX TENNIS STAR ASHLEY HARKLEROAD'S STEAMY NUDE PIC BREAKS THE INTERNET
"If a guy is asking for a picture, you also have to return the favor with another picture," Paige said. "And it's not that I really care to see it, it's more just collateral. I need to have something of yours, 'cause you have something of mine. I learned that the hard way."
This quote was blown out of proportion by Twitter account @ScreenMix, who tweeted about it in Arabic. According to Paige's screenshot, the English translation reads, "If someone wants to get a nude picture of me, he must send me a nude photo of him too, not because I want to see it, but it is just extra guarantees. I need something of his own because he has something of my own. Everyone who agrees to my terms, let me know!"
Some people apparently took this as an invitation to ask Paige if she wants to exchange nude pictures. She explained that she started the podcast as an opportunity to be honest, but "the clickbait headlines are twisting everything I'm saying." She outright told people to "stop asking me for nude pictures and if I want to exchange nude pictures."
Paige Had A Past Nude Photo Controversy
Paige's comments on wanting "collateral" from guys in exchange for her nude photos goes back to a controversy in which an intimate photo of her was leaked by an ex-boyfriend. People started sending her messages in response.
"It was horrible, just getting these random messages from people you don't know and they've seen you in such a vulnerable way," Paige said of the experience on her podcast. "It was disgusting."
RELATED: MEET 'AMERICA'S GOT TALENT' CONTESTANT TURNED NUDIST MODEL [PHOTOS]
She dealt with it by posing for the Sports Illustrated swimsuit issue, saying, "I felt so empowered and I was like, 'OK, if I'm going to do this, I'm doing it on my terms' and I took it back, I took my body back."
Paige is also unashamed of showing off her cleavage on social media, saying in an interview, "I do flaunt my cleavage, I don't see anything wrong with it, I like the way my body looks. I'm young, I feel confident and like to feel sexy and I think I have a nice chest and I don't think there's anything wrong with that."
Let us know what you feel about this article