'AGT's Gina Brillon to Perform at Same Comedy Club as Howie Mandel, What Else to Know About the Star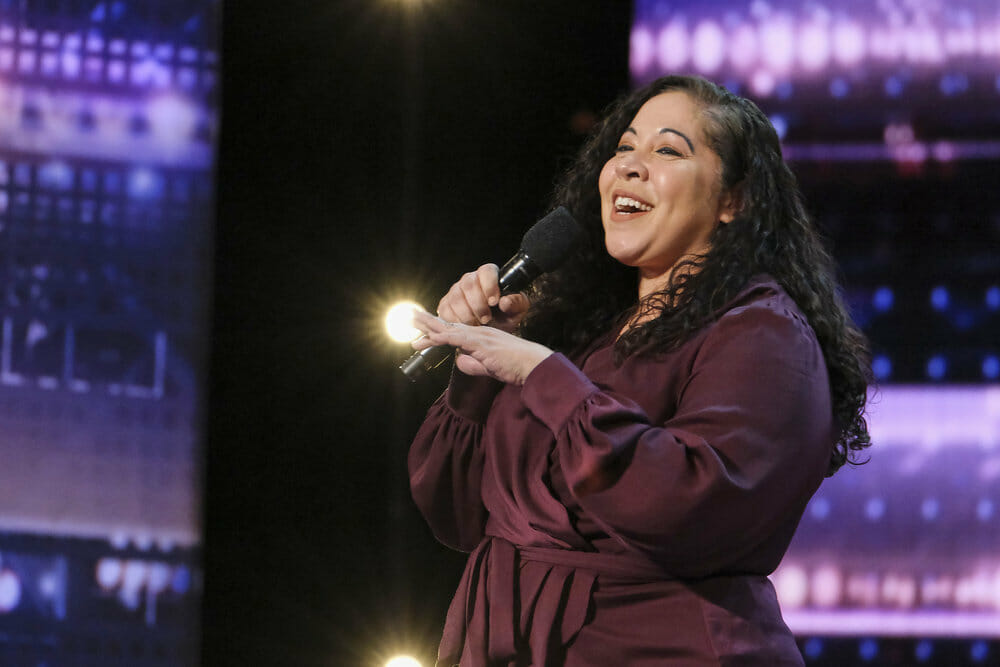 Trae Patton/NBC
Gina Brillon took the America's Got Talent stage for the first time on June 8. This stand up comedian had all four of the judges and the audience standing for her by the end of her first performance.
She has the potential to going very far in this competition with her comedy, but has she been performing in front of people for a really long time? With an audition as seamless as hers, there's no way she's new to the comedy world. Here's what to know about the hilarious act.
1. There's a Blue Check Mark Next to Her Name
Currently, Billon has 36,900 followers on Instagram and 236,000 on TikTok. She has a business account on Facebook and is listed as a comedian. Both of her biographies read: "Stand up comedian, actress, writer."
Brillon had a large following before even joining AGT from all of the comedy gigs she's done. Considering she is verified on Instagram, she was definitely not a stranger to the comedy world before her audition.
2. She Got Hitched in 2017
Brillon jokes about her husband so much in her audition we couldn't help but dig deeper. Her husband, Jeremy Oren, is a freelance pianist that works for five major cruise lines as a solo artist and headliner. They got married in September 2017 and welcomed their first child together in July 2020.
3. Not Just a Comedian, a Quadruple Threat
Brillon has some other tricks up her sleeve. Comedy isn't her only talent. She can also act and write, but has recently shown off her singing skills on TikTok too.
In her caption she claims she is not a singer, but I beg to differ! If she wanted to, she could sing on the AGT stage and I'm sure she wouldn't get a red buzzer.
4. She Voices a Character in A New Kids Film
Brillon plays the character of Ogglie Mom in the new kids film, SMELLVILLE. She has talked about how bringing her voice the the animated screen was a dream of hers as a comic, she also mentioned how this role was perfect for her since she's a new mother. Since becoming a mother, she was able to connect really well with this character.
This isn't even Brillon's first time in the streaming world. Last year, she released a comedy special called The Floor Is Lava with Amazon Prime. Brillon has really done it all. She's been on two episodes of The Conner's, featured on Jimmy Kimmel Live!, was in The Howie Mandel All-Star Comedy Gala, and more.
5. History with Howie Mandel, his Comedy Gala and SuperNova Comedy
It seems like Brillon is not a stranger to judge Howie Mandel. She was a part of Mandel's 2017 All-Star Comedy Gala TV Special. Although she was not one of the all-star names announced in the advertisement, she was still a part of the event. After her audition, Brillon seemed starstruck when Mandel was complimenting her on stage. I'm not surprised that Mandel didn't recognize her since it's been so long, but wouldn't she feel more comfortable around this well-known comedian?
It was pretty weird that they didn't recognize each other during her AGT audition. Brillon will be performing tonight at SuperNova Comedy Club at 7:30p.m., which is pretty suspicious since Mandel is going on at 7 p.m.
Let us know what you feel about this article