XOMG POP Member Kiya Has Left the Group for Unknown Reasons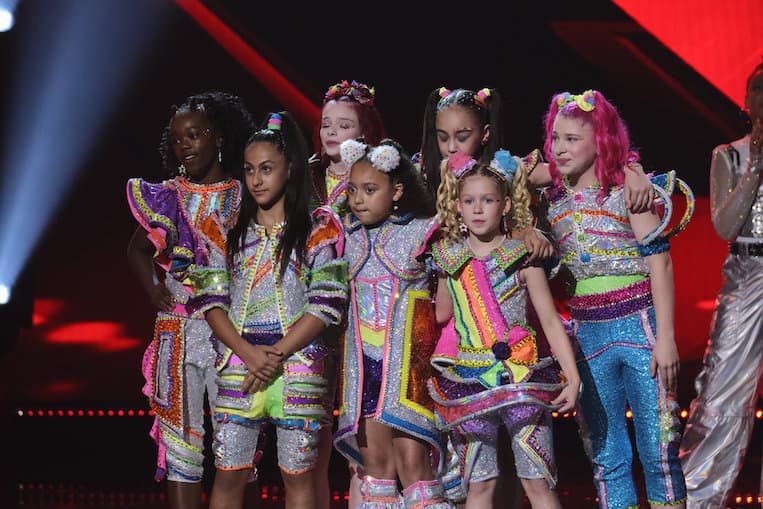 Photo by: Trae Patton/NBC
America's Got Talent girl group XOMG POP is down to six members after 13-year-old Kiya Barczyszyn unexpected left the group. JoJo Siwa, who created the group with her mom Jessalynn, hasn't commented on the reasons behind Kiya's departure.
Kiya Leaves XOMG POP, Unfollows Group Members
TikTok user @codedebyt has posted several videos about the drama over the past few days, pointing out that Kiya changed her Instagram profile picture as well as her bio. Although she initially deleted any mention of XOMG POP, her bio now reads that she was a former member.
Kiya also apparently unfollowed every member of the group except for Dallas Skye, and she also unfollowed both JoJo and Jessalynn Siwa. Her mom is apparently selling Kiya's costumes. Meanwhile, the group has been posting TikToks without Kiya and hasn't mentioned her departure.
Recent posts on Kiya's Instagram seem to hint at the drama, as she's posted photos set to the songs "Stronger (What Doesn't Kill You)" by Kelly Clarkson and "Never Give Up" by Sia. In her most recent Instagram post, she tells fans, "Stay tuned…"
SEE ALSO: MEET JOJO SIWA'S GIRL GROUP XOMG POP, WHO WERE THEY BEFORE 'AGT'?
Did Kiya Leave Because of a Solo Opportunity?
TikTok user @codedebyt suggested in a video that Kiya's departure from the group could be related to a recent video she made with choreographer Guy Groove. She appears in the video without her fellow XOMG group members.
However, commenters pointed out that other members of the group have done solo videos with Guy Groove, and he's apparently friendly with the Siwas. So that might not be the reason, although the timing of the new video was certainly strange.
Kiya was the first member added to the group, which was formed on the reality show Siwas Dance Pop Revolution. She and the rest of the group recently competed on America's Got Talent, although they didn't earn enough votes to make it to the Finals.
Let us know what you feel about this article