Brick Artists Put on Their Fashion Designer Hats in 'LEGO Masters' Challenge
TOM GRISCOM
LEGO Masters Season two is supposed to be "bigger and better" and it continues to deliver on that promise. After a couple of awesome to watch, destructive challenges the competition unveiled the toughest challenge yet. This week took a break from the carnage of LEGO destruction and gave us a taste of high fashion when the 10 remaining teams had to build one-of-a-kind hats and strut them down the runway in the first LEGO Masters fashion show.
The teams were each assigned a color to serve as inspiration for their hats. What they designed from there was entirely up to them. The only catch was they'd have to model them down a runway and it had to balance on their head, unassisted for five seconds. There's a lot to consider when trying to design wearable LEGO art. With an average weight of around two and a half grams per brick, making a hat well-balanced and structurally sound is all about the design.
LEGO Masters Walks the Runway
After the teams unveiled which color they drew, they had only 12-hours to design and build their stunning and wearable headpieces. For most teams, the color was easy to imagine their stunning hat. Brothers Mark and Steven were unlucky and seemed lost after ending up with brown as their color. An uneasy feeling for the two who found themselves in the bottom last week.
Some teams tied their assigned color back to something personal. Friends Dave and Richard tapped into Carnival and Richard's Jamaican heritage when they drew pink as their color. The brothers, Zack and Wayne, thought of Robin Hood when they saw green and tied that to their background as experienced archers. 
Other teams went a more playfully imaginative route instead. The sibling team of Lauren and Bryan ended up with red, which they spun into a gorgeous phoenix design. Twins Caleb and Jacob capitalized on ending up with white and created the zaniest chef's hat imaginable. 
After building for 12-hours the teams had to put their wearable designs to the test. With no immunity available in one of the toughest LEGO challenges yet, it came down to who would blend technical and creative ability the best.
The Brick Masters: Who Was Eliminated?
The brick masters, Jamie Berard and Amy Corbett joined by host Will Arnett, sat front row at the LEGO Masters Summer 2021 fashion show. By the end of the show, only two hats didn't balance well enough and came crashing down on the runway. While the brick masters didn't have to decide who was at the bottom, they had a lot of great hats to choose from to be this week's winner.
The brick masters named Michelle and Natalie as the winners of the runway challenge. Having drawn black for their challenge color, they thought of Audrey Hepburn and designed an ornate, asymmetrical top hat. Complete with a lace veil and a spinning element at the top to really catch your eye, the design looked like a hat you might expect to see in high fashion.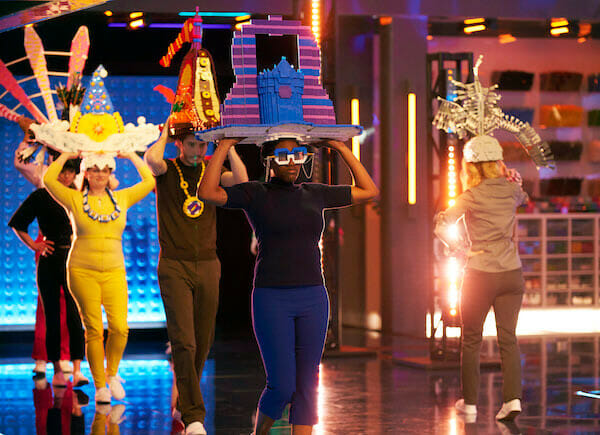 Sadly, two teams didn't slay the runway and instead were slain by it. Dave and Richard's Carnival-inspired feathery headdress was as beautiful as it was massively unbalanced. The design nearly took Arnett out along with some brick masters before it came crashing down. 
The friengineers Moto and Paras also had big ambitions. They drew up a safari concept after getting khaki for their challenge color. Independently they built two great pieces but that lead to a flaw in the design when they joined them together. The hat began breaking as they went to fit it on Paras and it came crashing down immediately once he let go. For being unable to keep their hat together to even walk the runway, it was Moto and Paras that were sent home this week. 
Catch the next episode of 'LEGO Masters' next Tuesday at 8 p.m. ET on FOX.
Let us know what you feel about this article