WATCH 'X Factor: The Band' Defy Critics With High Ratings — Simon Cowell Does It Again!
BBC
X Factor: The Band debuted last night for the first stage of auditions. Judges, Simon and Nicole took to the judging desk at Sony Music, London hoping to create the next biggest band to compete with K-POP.
IS NICOLE SCHERZINGER DATING GUEST JUDGE, NAUGHTY BOY?!
Did 'The Band' win over fans of the show?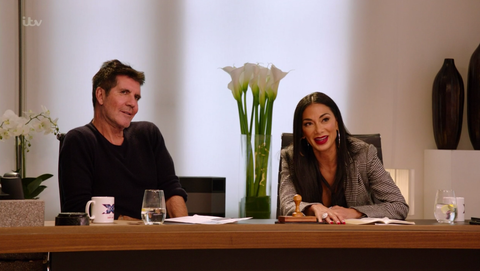 It's fair to say, 'The Band' for the most part, was popular among regular viewers of the show with many saying it was 'the best episode of X Factor in years'. The debut episode saw a much more simplistic approach to the 'Celebrity' version with Simon and Nicole looking much more relaxed and confident, despite the short length of time to put together a group. Here's what fans had to say on Twitter about the first episode:
One fan suggested that 'The Band' should have taken the 'Celebrity' slot this year.
However, it's not all good news for Simon's brand new show. Many were confused at the need for the judges to use a stamp to confirm the contestants had received a yes. However, This idea isn't entirely new. US show, American Idol has follows similar premise, but instead contestants are given golden tickets.
Others were particularly shocked that Louis Walsh isn't making an appearance on 'The Band'. It is a little weird that Walsh, known for managing global superstar bands, isn't featuring as a judge. Not even as a guest judge Simon, really…?
SIMON COWELL SIGNS AMANDA HOLDEN FOR ANOTHER 20 YEARS ON BGT!
Our favourite auditions from last night's show
It's fair to say, having the general public appear on the show is a breath of fresh air and they really brought the talent last night! So, without further ado, here are our favourite performances from last night's show.
SUBSCRIBE to Talent Recap UK for more performances and clips from 'X Factor'!
Jess Folley – 'I Love'
The Lewis Sisters – 'The Beat Goes'
Jed Thomas – 'Childish Gambino'
Is 'X Factor: The Band' enough to save Cowell's 'X Factor?
We're extremely optimistic about this new show. All the contestants have personality, charisma and a true passion for singing (something that lacked during 'X Factor: Celebrity'!)
'X Factor: The Band' saw the highest ratings out of all the shows that aired at the 8:30pm time slot, which is a win for Cowell. All we can do is hope that a superstar group arises from this new spin off show.
MOMENTS JUDGES STOOD UP TO SIMON COWELL ON AGT
Are you hopeful that X Factor: The Band will find a group, able to compete with One Direction or Fifth Harmony? Let us know in the comments!
X Factor: The Band continues this Wednesday on ITV.
Let us know what you feel about this article