'AGT Champions' Marcelito Pomoy Teaches Boxing Legend Manny Pacquiao How To Sing [VIDEO]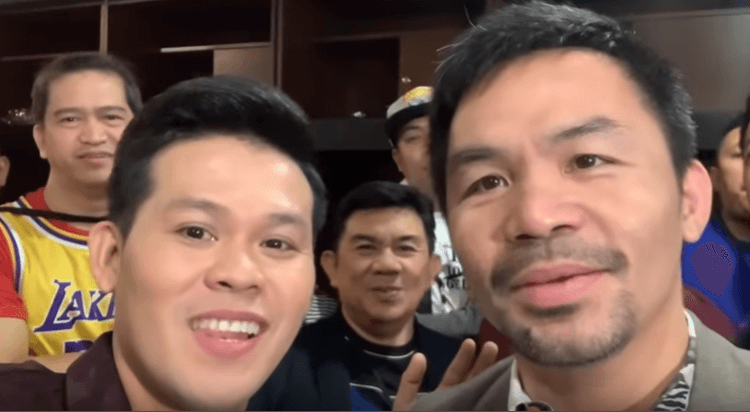 Instagram
There is no question that Marcelito Pomoy has quickly become one of the most popular contestants in history! Fans across the world are in love with his incredible vocal range and amazing dual-voice skills. He even won our fan poll to help decide the AGT: Champions winner. Now, the incredible singer has sung with Filipino Legend and iconic boxer Manny Pacquiao.
In the video, Marcelito sings Pacquiao and former tennis player Dyan Castillejo. And both sounded pretty good, especially Pacquiao! For someone with no prior singing experience, he sounded pretty fantastic! Fun fact Manny Pacquiao is also a Filipino politician currently serving as a Senator of the Philippines since 2016.
MARCELITO POMOY REACTS TO 'AGT' CONTROVERSY AND FAN BACKLASH [VIDEO]
Marcelito Pomoy on 'AGT Champions'
Pomoy is competing on AGT Champions, which airs its finale tonight. He auditioned in the second episode, performing both parts of "The Prayer," where he advanced due to the Superfan Vote. However, the controversy came when Simon Cowell STOLE Howie Mandel's Golden Buzzer, using it on dance act Boogie Storm! Many believed that Howie should have used the Golden Buzzer on Marcelito or magician Mark Spelmann.
Marcelito Pomoy Fans Are Outraged
Then, when he closed out the semi-finals round, Marcelito performed "Time To Say Goodbye," once again to rave reviews. Similarly, Marcelito moved onto the finale through the Superfan vote.
Finally, he performed both parts of "Beauty and the Beast," to mostly fantastic reviews. However, Simon Cowell once again proved to be a thorn in Marcelito's side, saying he would've chosen a different song. This reaction caused an uproar online, with fans calling out Simon's hypocrisy after his Golden Buzzer Boogie Storm didn't impress.
'AGT' FINALE LEAK: SIMON COWELL CALLS MARCELITO POMOY 'PREDICTABLE' — FANS OUTRAGED
So, are you rooting for Marcelito Pomoy in the AGT: Champions finals? Let us know in the comments below! And don't forget to watch the finale tonight on NBC at 8/7 Central!
Let us know what you feel about this article