"Jerry Jerry!" The Wild Ride of Former America's Got Talent Host Jerry Springer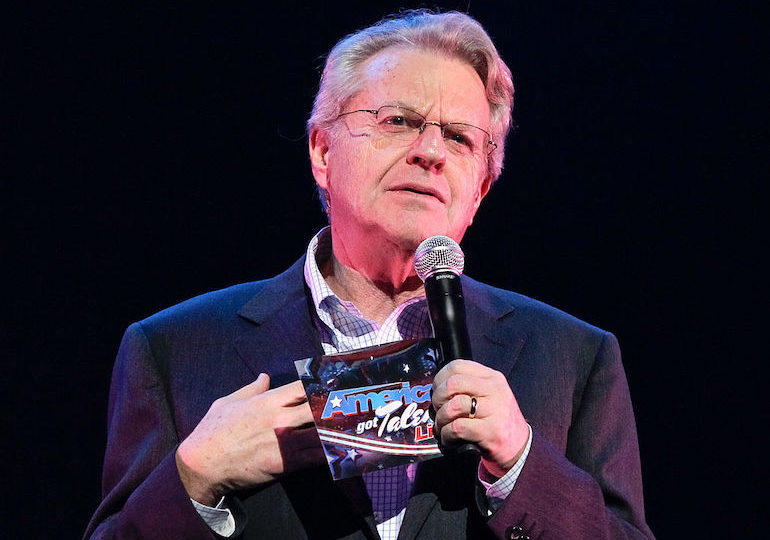 Getty Images
There is no denying that Jerry Springer is a pop culture icon. The former talk show host has lived a life that has taken him from the world of law, to politics, to hosting one of the most infamous talk shows the world has ever seen. But just how did he go from being the Mayor of Cincinnati to hosting the early days of America's Got Talent? 
There is probably no rhyme or reason to such a career, but it does make for a great story. The man who changed TV  forever continues to make career moves that leave us scratching our heads. 
When America's Got Talent first premiered in the Summer of 2006, viewers were introduced to a spectacle that they had never seen before in a competition show. The excitement over the show translated to a ratings boom for NBC. Season 1 kicked off with one of America's favorite talk show hosts, Regis Philbin, as host. The strategic move to hire Philbin made sense, he was a comforting personality that was first introduced when America's favorite pastime was watching talk shows. 
Regis became a main staple when he was the sidekick on The Joey Bishop Show. Philbin went on to host a slew of specials, games shows, and was reintroduced again to a new generation when he hosted Live With Regis and Kathie Lee. The decision to bring a beloved host on the first season completed the winning formula to make America's Got Talent a hit, but when Season 2 premiered, Philbin was out and, shockingly, Springer was in. 
Why Was Jerry Springer Chosen to Host America's Got Talent?
Make no mistake, Springer has many adorning fans of his own, but America's Got Talent was considered family friendly viewing, hiring Springer left many confused. There's no denying Springer's popularity, which I am sure led to him being hired for Seasons 2 and 3 of America's Got Talent. 
Looking for something new after 15 years of The Jerry Springer Show, transitioning to AGT made sense for Springer. By the time America's Got Talent entered its second season, the America that embraced Regis Philbin had begun turning into an America that welcomed guilty pleasure T.V. Springer was already the leader of the pack when it came to guilty pleasure, in fact he ushered in the era over a decade before. 
The Hills, Keeping Up With The Kardashians, and other reality T.V. shows were embraced by American viewers. The turning tide in what Americans watched was embraced by Simon Cowell and the executives who needed a new host for America's Got Talent. The same strategy applied in getting a host that reflected America's new taste in television.
The formula worked. Ratings continued to climb with Springer as a host. The audience chanted "Jerry, Jerry," similar to the audience of his daytime talk show. His wit shined every night, oftentimes having quick banter with the judges. His caring nature with contestants resembled his "Final Thoughts" segment on his show.
Springer's Rise to Fame
Way before becoming a recognizable T.V. personality, Springer was born in the London Underground station of Highgate while the station was used as a shelter from German bombing during World War II. When he was four, his parents immigrated to the U.S. and settled in Queens, NY. After listening to a speech from John F. Kennedy, Springer decided to go into politics. He racked up degrees in political science and became a campaign manager following the assassination of Kennedy.  
In 1971 Springer was voted into the Cincinnati Council. In 1977 he was voted to serve for one year as the Mayor of Cincinnati. After scandals plagued his political career, Springer finally left politics behind after a failed attempt at becoming the Governor of Ohio. During his failed campaign, the trajectory of Springer's life was set with his campaign's message.
During his run, Springer released commercials that referenced his use of a check to pay a prostitute. Springer said that he was not afraid of the truth "even if it hurts." Perhaps it was that honesty that set Springer on a course that would make him the perfect host to captivate an audience by hosting one of the biggest talent shows in the world.
After segwaying into a career in journalism, Springer premiered The Jerry Springer Show in 1991. The show was developed to be the next Phil Donahue Show, but as we know, a cultural phenomenon was born. Springer's talk show averaged almost 7 million viewers an episode in its early days. 
Springer left America's Got Talent after hosting for just two seasons. The Jerry Springer Show lasted for 27 years. Now, Springer has returned to his law roots and hosts his own Judge Jerry Show,  showing that life is filled with full circle moments. Springer has lived a life showing us that  as long as you play the games by your own rules, there will always be an audience for you to embrace.  
In the meantime, AGT went back in the direction of pure family fun. After a series of various hosts, the show has settled on the beloved Terry Crews. While his contract with NBC officially ended in August, fans of the show are fully on Team Terry and expect his return for Season 17.
Let us know what you feel about this article