Britain's Got Talent
'Britain's Got Talent' Delivers Again In A Zany Auditions Episode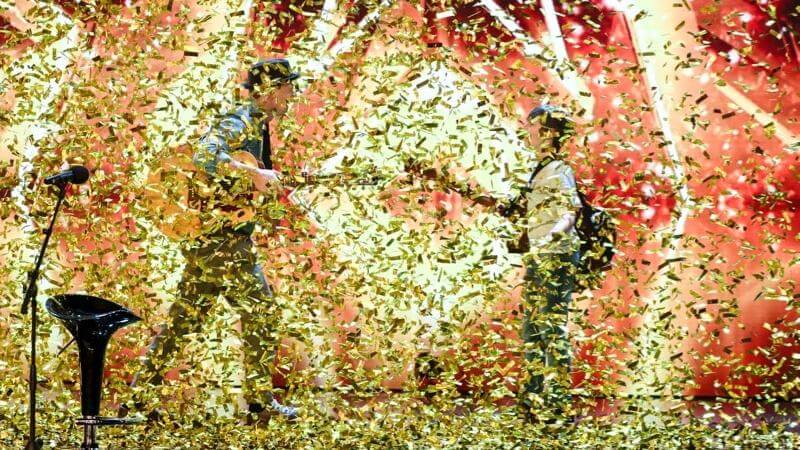 Syco/Thames
This week on Britain's Got Talent we saw a plethora of acts, some good, some bad but all were entertaining…even if not for the reasons that the performers intended. Still, Simon, Alesha, Amanda, and David did their best with what they were given. There were a few that really stood out. What are we waiting for? Let's get to it!
Amy Marie Borg
Amy came out looking like a shy wilting flower. Then she opened her mouth and out came this operatic voice. The judges were blown away and the got four enthusiastic yeses.
Lexie and Christopher
Is there anything cuter than two ten-year-olds doing ballroom dance? Not only did they dance better than any adult I know, they were also incredibly charming.They got 4 yeses.
Magus Utopia
OK, this was cool. They are an illusionist act from the Netherlands and their performance was both shocking and thrilling. They stunned the audience and the judges and got 4 yeses.
The Ratpackers
These two mismatched buddies took us back to the days of Frank and Dino in Vegas. It was just fun to watch and they got 4 yeses.
Baba Yega
What…can I say? So, it's like an alien dance troupe, I guess? It was cool but are the Brits going to be into aliens that dance? I guess they really dig Dr. Who. 4 Yeses.
Mandy Muden
Mandy does comedy magic which isn't exactly an easy sell. Usually, comedy magicians are pretty lame. Not Mandy. She was genuinely both funny and a good magician. She got 4 yeses.
Bat-Erdene Nyamdavaa
This dude with an unpronounceable name did something called throat singing which is just odd sounding. Maybe it's a cultural thing but Simon was into it. The other three, not so much and he was sent home.
Martin Westgate
It's hard to be a stand-up comic. There is nowhere to hide if you…well…suck. Martin didn't do very well at all with his dad jokes and was sent home.
Jadoo's Jingles
Who knew that an act involving belly dancers and swords could be so boring. They were quickly sent home.
Jon Davison
You know when you see a performer with three legs and you're all like, "Wha?" That's what Jon did and the judges said no.
Humanimals
This was some Furry nonsense. Two people in animal costumes prancing around? No thanks.
Tim and Jack Goodacre
This was a lovely act. A father, a son, and a guitar. They sang an original song and Simon was so taken by the act that he gave them the golden buzzer.
Let us know what you feel about this article
Talent Recap Comment Policy
What do you think? We welcome your insight and opinions, but keep them clean! Comments are monitored, and abusive content will be removed.