'American Idol' Week 5: Katy Perry Isn't The Only One Who's Pregnant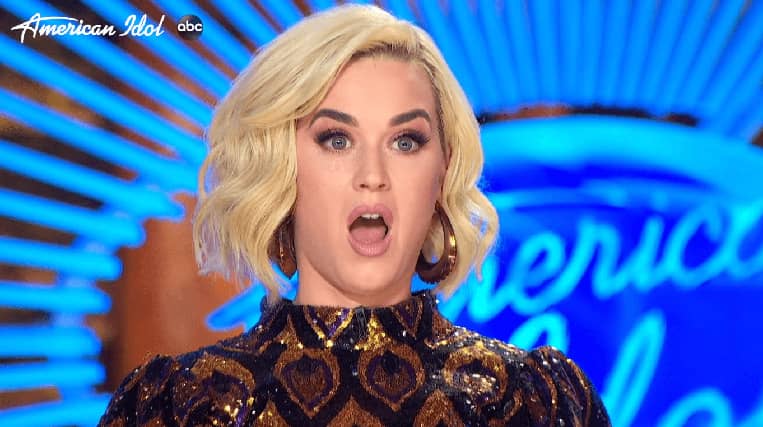 American Idol YouTube
American Idol Season 18 continued with the final round of auditions on Sunday night. It's the last episode before the infamous Hollywood Week begins on Monday, and the judges added plenty of talented artists to the line-up.
Last week, judge Katy Perry shared the news of her pregnancy on the show. This week, one of the contestants was pregnant. Read on to find out her story, and watch this week's memorable auditions.
'American Idol' Week 5 Auditions
Robert Taylor
This self-proclaimed "church boy" was disowned by much of his family after coming out as gay. His supportive father recently passed away after encouraging Robert to try out for the show. Robert sang "Bruises" by Lewis Capaldi on the finale. Lionel Richie called it "incredible," and Luke Bryan said it was "perfectly done." Robert is going to Hollywood.
Grace Leer
This singer made it to the top 20 of American Juniors when she was 11. She's now performing country music in Nashville. She auditioned with "Crowded Table" by the Highwomen, followed by "Crazy" by Patsy Cline. Katy said she has an "instant identity" and Luke said she was "easy to listen to." Grace got three yes votes.
KATY PERRY HEADS HOME AFTER QUARANTINE AT SAME HOTEL TOM HANKS STAYED AT
Franklin Boone
This music instructor performed "Dreams" by Fleetwood Mac on the guitar. Luke said he saw "artistry" in Franklin's performance and called it an "Alejandro moment." Katy said he has a "good chance" to win, while Lionel praised him for his "style." Franklin got a golden ticket to Hollywood.
Roselyn Carter
This singer lost friends to street violence and wants to "set an example" to others. Roselyn performed "So High" by John Legend. The judges called it "moving," and Katy said, "You embody what American Idol stands for." Roselyn got three yes votes and a golden ticket to Hollywood.
Megan Knight
This singer performed "When Your Mind's Made Up" by Glen Hansard in the show's first audition on a boat. The judges gave her some advice about her voice and guitar playing, and voted yes to send Megan to Hollywood.
Gilberto Rivera
Before the audition started, this singer performed a duet of "Hello" with Lionel Richie himself. He went on to perform "Proud Mary" by Tina Turner. Katy stood up to dance with him during the performance. Lionel called him "unique," but suggested he might be more suited for theater. Gilberto promised to "strip it all away" (including his chest hair) and just leave his voice. Katy and Luke voted him through to Hollywood.
Justin Oliver
This singer performed "Treasure" by Bruno Mars, which was co-written by Phredley Brown, the American Idol accompanist. The judges said they don't think his voice is up to par, but challenged him to prove them wrong next time. Justin won't be going to Hollywood.
Aliana Jester
This singer brought her dog, who is in training for emotional support. Aliana has struggled with depression and self-harm, and says her dad saved her life. She performed "Who's Lovin' You" for her audition. Katy encouraged her to put her "sadness and pain" into her music. Luke called her a "special singer." Lionel said she reminds him of young Whitney Houston. Aliana is going to Hollywood.
Jahzan
This 18-year-old singer from Jamaica is currently homeless and busking in New York City with her mom, who joined her for a performance of "Rockabye" by Clean Bandit, before performing "Warrior" by Demi Lovato. Katy said she sounds like a combination of Toni Braxton, Cher, and Shakira. Jahzan is going to Hollywood.
6 HOMELESS CONTESTANTS THAT BROKE THE INTERNET WITH THEIR AUDITIONS
Demi Rae
This singer's father was in and out of jail when she was growing up. He's since "turned his life all around." Demi performed "Mad at You" by Noah Cyrus, and shared that she feels "insecure" about pursuing music. Katy gave her a pep talk, and she got a ticket to Hollywood.
Nash
This shirtless performer sang "Should've Been a Cowboy" by Toby Keith while the judges made s'mores. Katy questioned if his sense of humor would work "in the real world," while Luke gave him some vocal tips. The judges all voted no, meaning Nash won't be going to Hollywood.
Makayla Brownlee
This teenager performs at wheat festivals. Going to American Idol was her first time flying on a plane. She performed "Travelin' Soldier" by the Dixie Chicks. Katy encouraged her to enunciate more, but praised her voice as "sincere." Makayla got three yes votes to go to Hollywood.
AMERICAN IDOL: AFTER LEAVING ABUSIVE BOYFRIEND THIS SINGER BEGINS A NEW JOURNEY
Amber Fiedler
This singer is 9 months pregnant and putting the baby up for adoption. Amber explained that she's "not ready to be a mom," but knows the baby will have "everything she wants" with her new family. She performed "Trust in Me" by Etta James. Luke called her "timeless," and Katy said she has a "really big shot" to go far. Amber is going to Hollywood, which is one week after she's due.
Let us know what you feel about this article