Number Of Americans Filing For Unemployment Benefits Hits An All-Time High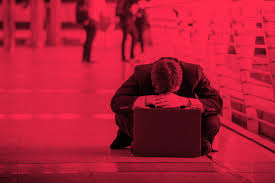 Shutterstock
The U.S. Labor Department has seen some staggering numbers this morning due to the coronavirus outbreak. Many American's have been laid off because their jobs have closed causing them to file for unemployment benefits. As of today, there have been 6.648 million claims made by Americans for unemployment benefits. It was only expected to be half that much. Last week, the claims were at 3.307 million. This has broken the record for the most claims in one week which was previously 695,000 claims filed on October 2, 1982. 
This just goes to show how much the spread of COVID-19 has impacted everyday routines and lives. It has put people into some difficult financial situations and the economy is certainly taking a hit.
The Number Of Unemployed People Is Still Expected To Increase
Yahoo! Finance posted the following graph from the US Department of Labor that really puts into perspective just how many more people have filed for unemployment benefits in only a week. That number is still expected to increase as coronavirus cases are still on the rise across the United States.
Nick Bunker, Indeed Hiring Lab's director of economic research, said: "The deterioration of the labor market in the past two weeks almost defies belief." Many experts think the reason for such a dramatic increase in claims is because applications have been backlogged due to the website crashing constantly. It has been difficult for people to apply for these benefits because the website is not used to handling so many people at one time.
There could be more people who could be trying to apply and still not have gotten lucky enough for their application to process. They are advised to continue trying to apply until they get to the final page that says their application is complete. It may take a few tries.
RELATED: 32% AMERICAN'S ARE PREDICTED TO BE UNEMPLOYED DUE TO CORONAVIRUS
Some States Saw Higher Unemployment Rates Than Others
In California, nearly 879,000 people filed unemployment claims. This is a huge amount of people but it was expected. California Governor Gavin Newsom said about 1 million workers sought benefits in two weeks. Only 186,000 filed the prior week. The difference one week can make in a world where coronavirus is spreading so rapidly is tremendous.
In Texas alone, unemployment rates soared over 600%. There are currently shelter-in-place orders in Texas which have caused a lot of people to not be able to work. Texas saw an increase of more than 120,000 people filing for unemployment insurance benefits for the week ending March 28 for a total of nearly 276,000 unemployment claims.
The CARES Act Extends Unemployment Privileges To Ineligible People
Not everyone is eligible to file unemployment claims. The CARES Act that was signed into effect last week to expand unemployment privileges. Now people who are self-employed, as well as independent contractors, are eligible to receive unemployment benefits because their businesses are also taking a hit during this time.
TRENDING: EVERYTHING YOU NEED TO KNOW ABOUT THE CORONAVIRUS VACCINE
The CARES Act is a positive step in the right direction to provide people with relief while they are out of work or struggling with their businesses. Here's how to find out if you are eligible to receive unemployment benefits.
Let us know what you feel about this article