Caleb Kennedy Out of 'American Idol' After Videos Resurface, Mom Speaks Out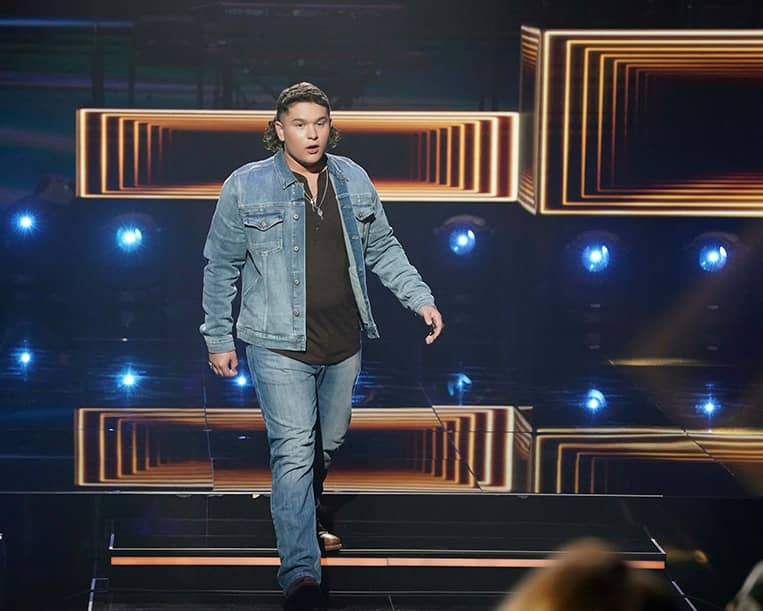 ABC/Eric McCandless
American Idol Top 5 contestant Caleb Kennedy is out of the competition after a racist video resurfaced online. The video is disturbing, despite the fact that Caleb now says it "displayed actions that were not meant to be taken in that way."
Caleb announced the shocking news on Instagram with a lengthy post entitled "An update from me, about American Idol."
In the video, Caleb sits next to a person wearing a white KKK hood. The caption reads: "bow." The video is now widespread across various social media platforms after it was posted by a user called @DefNoodles.
Along with the video, it posted: "THIS SHOULD'VE STAYED IN YOUR DRAFTS: American Idol contestant Caleb Kennedy allegedly seen in a resurfaced with someone wearing a K*K*K hood. Caleb is allegedly blocking anyone who mentions the video, according to multiple reports."
"I was younger and did not think the actions," Caleb wrote in his statement before announcing he will be taking a break from social media.
Caleb's mother, Anita Guy, has now spoken out. She told The Herald-Journal that Caleb was 12 years old in the video. He and his friends were supposedly pretending to be characters from The Strangers: Prey at Night.
"I hate this has happened and how Caleb is being portrayed by people online," she said. "This video was taken after Caleb had watched the movie The Strangers: Prey at Night and they were imitating those characters. It had nothing to do with the Ku Klux Klan, but I know that's how it looks. Caleb doesn't have a racist bone in his body. He loves everyone and has friends of all races."
Caleb was the Country-Singing Frontrunner
American Idol has removed Caleb's performances from its YouTube channel. A representative also confirmed to the New York Post that the show would continue on with the top four: Willie Spence, Grace Kinstler, Chayce Beckham, and Casey Bishop.
Caleb was considered a frontrunner of the competition as he is the only remaining country singer in the competition. The 16 year old from Roebuck, South Carolina stole the judges hearts from the moment he auditioned.
"I want to be like a legend," Caleb said at the time. "I want to be somebody who changed country music, kind of want to be an outlaw too. A little bit of an outlaw."
All three judges originally voted to send Caleb to Hollywood. He maintained a top position throughout the competition by often performing original songs.
This isn't the first contestant to drop out of the competition this year. Wyatt Pike left the show earlier this season in another shocking announcement. Despite a wave of rumors, it was never confirmed why Pike left the show.
Caleb's cohort members have yet to comment on the situation. But Willie did post a photo to his Instagram story that depicted the now-Top 4 performers. It is also not yet clear whether the song Caleb recently recorded for Idol will still be released on Friday, although it does not seem likely.
Let us know what you feel about this article