Young Rapper's Song For His Mom Inspires 'Got Talent' Judge To Hug Him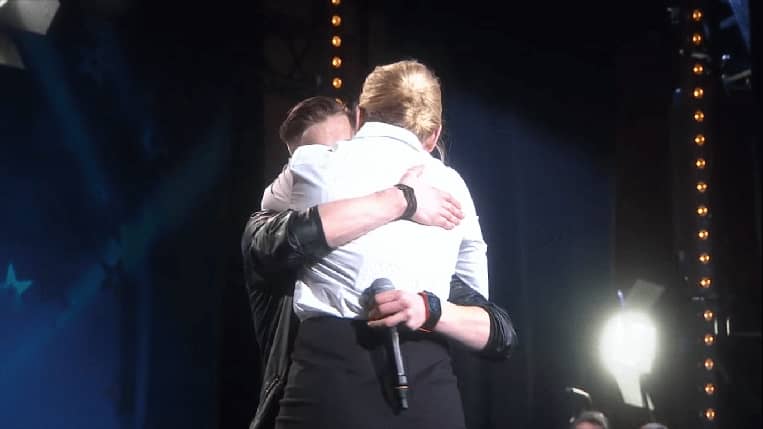 YouTube
A young rapper named Patrick Jørgensen moved the judges on Norway's Got Talent with his heartfelt audition in 2015. He performed a song paying tribute to his mother, who died of cancer.
Patrick's performance was so emotional, it inspired one of the judges to hop on stage and give him a hug, and another to hit the Golden Buzzer for him. Check out his performance in the video below.
Patrick Jørgensen Auditions For 'Norway's Got Talent'
"The song I'll be singing for you today is about my mother," the 23-year-old told the judges before his performance. He said he had shared the song, called "Million Questions," with his mother four days before she passed away.
TEEN SINGER MAKES 'GOT TALENT' JUDGES CRY WITH SONG FOR HIS LATE BROTHER
"Her response was all I needed," Patrick said, adding that his mother asked him to play it again. "Mama, I'mma never stop talking to you," he raps in the song. "Don't you ever stop talking back to me."
The judges were clearly affected by the performance, as some of them had tears in their eyes. After his performance, judge Mia Gundersen immediately approached Patrick, saying, "Do you know what? You need a big hug."
Patrick Earns The Golden Buzzer
While Mia and Patrick were hugging, fellow judge Linn Skåber climbed onto the desk and hit the Golden Buzzer. She compared him to Eminem, and said he conveyed his message "brilliantly."
WATCH CANADIAN SINGER DELIVER THE MOST STUNNING VOCALS EVER ON 'IRELAND'S GOT TALENT'
"I can hear everything you say," Linn added. "You're talented. You're dramatic. You're like an opera singer showing your feelings. You keep your focus and demand that we follow you on your journey. And we do."
"Your flow is amazing," judge Suleman Malik told Patrick. "The audience really enjoyed it. You deserved the Golden Buzzer."
Patrick went straight to the semifinals, where he performed another song about his mother. He ended up finishing the competition as the runner-up. He went on to release an album called Lifeline in 2017. You can follow Patrick on Instagram for updates.
Let us know what you feel about this article