Who Is The Viking On 'The Masked Singer' UK? Clues Decoded + The Mask Revealed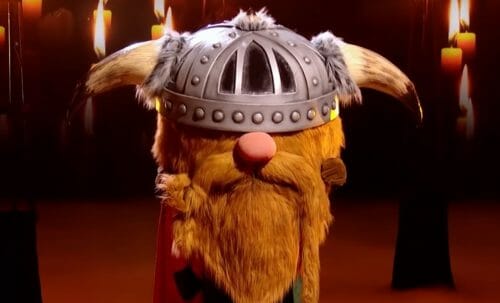 ITV/The Masked Singer UK
The Masked Singer UK kicked off its second season just six weeks ago. In such a short time, we've already seen some unpredictable performances and shocking reveals. The first of two to be unmasked last week was Viking. While the judges were shocked by the reveal, we had them figured out by week 2. We'll shave the clues and reveal the face of who was behind the mask down below.
Clues For Viking On The Masked Singer UK Season 2
Week 1
A lot like the setting of the clue package, Viking delivers clues that are equally shrouded in mist. They start up introducing themselves in third-person, emphasizing "king." Passing a large rock formation marked "King's rock" they explain that while we are curious about who they are, "[they're] curious too." Adding that Vikings are explorers that "forge their own way" and "discover answers." They compare their career to the competition saying they'll "be looking for a voice." Before taking their bow, they tell the panel they "may be a Viking but I also wear another kind of armor."
Week 2
Not much footing built up from their first batch of clues, the second week might change that. Viking shares that their instincts at an early age lead "to something that would later forge a career." Waving an American flag they add, I have "left my footprints across great countries outside of my own." While admitting they're a bit of a rule-breaker, Viking tosses sheet music into the air. They tell us that "sometimes success can be found when I break something" as they break a vinyl record. The strike from the hammer summons rain as lightning cracks the sky.
Viking told us these two lies and a truth:
"I am the proud owner of a Blue Peter badge"
"My first hit dialed 'm' for murder"
"My early career relied on brotherly love"
Week 3
The song performed this week is a clue to the celebrities and Viking sang "Take On Me" by a-ha. The clue package starts with Viking tells us that in their career there are "over a billion people who watched me do my thing." Being a Viking requires the use of tools they were "born with, and tools [they] can create." Referring to their homeland we are shown a map on which they point to "Spandau Falls." Other places noted on the map are "Fort Francis," "Frog River," and "The A1 Road." They go on to express that "creative fulfillment" is more valued than gold to them. Lastly, we are told that "steel has proved rather useful" in their career.
Week 4
At the top of the clue package, Viking is seen holding a long scroll with "Notes" written above lines of scribble. They say that people think Vikings are "about the pillaging and the taking." We see the mystery Viking next reading a comic book featuring himself on the cover. An interesting statement is made when Viking shares it "feels better to give than to take. I cannot take what you cannot give." In the surveillance footage, Viking is seen taking a phone call. Not much can be made out here but they do issue several responses of affirmation to whoever's on the other end.
Best Guesses For TMS UK's Viking
Hiding behind the mask behind the beard could be anybody's guess. The panel thinks the Viking might be Mika, Martin Kemp, or Jerome Flynn. The internet has some good guesses with names like Tony Hadley, Morten Harket, Ricky Wilson, or Tim Vincent.
Who Is TMS UK's Viking?
When we look at the clues and listen to their performances, Viking was obvious to be the a-ha frontman Morten Harket. And here's why.
Week 1 Explained
First, we consider the Viking costume as an indicator they're Scandinavian. Harket grew up in Kongsberg, Norway, which can be translated as "King's rock." Emphasizing "king" when they refer to themselves can be traced to Harket voicing the King in the Norwegian-dubbed version of Mirror, Mirror. Harket served as a mentor on The Voice Norway for two seasons, so he's certainly "looked for a voice." The reference to wearing other armor aligns with Harket being named Knights First Class of the Order of St. Olav for his international success and service to Norwegian music.
Week 2 Explained
The instinct at an early age refers to Harket playing and writing music since the age of 4. A-ha's hit song "Take On Me," topped the Billboard charts in 1985 leaving some "footprints" in the States. The sheet music clue also fits Harket never learning to read it despite taking piano lessons. A-ha are believed to hold two records in music. One for largest paying concert audience and Harket once held the longest note in a pop song. If our hunch is correct, then Harket's Blue Peter badge would definitely be his truth having received one in 1986.
Week 3 Explained
Singing his own song in hopes to throw us off was quite bold. Especially since he performed an IDENTICAL sounding version on MTV Unplugged. The billions that have seen Viking do their thing seems to fit nicely with the 1 billion streams "Take On Me" has achieved on YouTube. Kongsberg is known for its silver mines where Viking claims they forged their sword. Steel proving useful is certainly misleading making us think they might have used steel to gain their fame. A deeper ponder has us thinking this actually refers to a-ha's last studio album titled "Cast In Steel."
Week 4 Explained
We made a mention of this fact in clues from week 2 so this confirmed it. The long scroll titled "Notes" is a nod to Harket being known for holding long notes in his music. There were a couple of references to "Take On Me" starting with the "pillaging and taking" comment. They follow that up with the comic book, which is what the music video for the song centered around. While the phone call seems unhelpful at first, a second listen helps us learn Viking responded "a-ha" a few times. Did we need any more concrete clues?
Did We Decode The Clues For Viking On Masked Singer UK?
Another celebrity was unmasked and another successful guess for us. 5 more mysteries await us next week. Do our other guesses seem as sound? Follow us for the clues and catch The Masked Singer UK Saturdays at 7 pm on ITV.
Let us know what you feel about this article