Who is Nadiah Adu-Gyamfi the Season 1 Winner of 'Walk The Line'?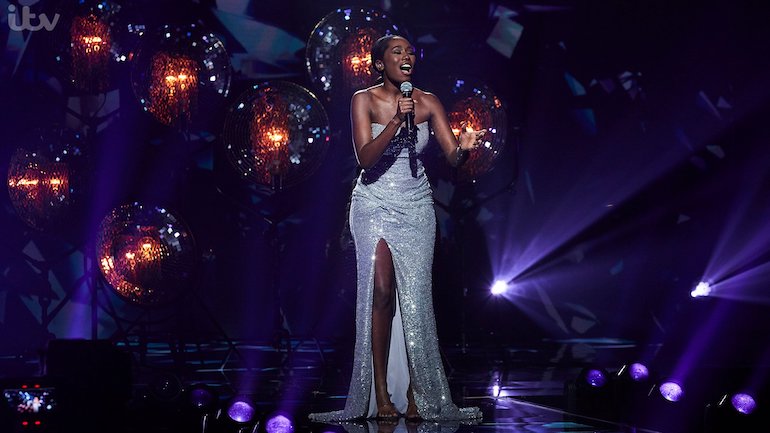 iTV
Nadiah Adu-Gyamfi won the first season of ITV's Walk The Line. Nadiah continued to bet on herself day after day during the week-long singing competition, ultimately winning the £500,000 grand prize. Now all eyes are on the singer as we watch to see how her career will play out, but Walk the Line was just another accomplishment in her already impressive resume.
Nadiah entered the contest on night four and made it through to the finale. During her second performance, her rendition of "This Woman's Work" by Kate Bus moved the judges to tears.
Nadiah is a Ghanaian-British soul singer. She began singing as a child when she attended church and when she was 15, she enrolled at Goldsmiths University of London and studied music. While growing up the singer discovered that she had the neurological condition, Chromesthesia, in which sound invokes images of color.
During her time at Goldsmith, she began to collaborate with other students who made music. The first song that she debuted online was "Summon the Strength." Her follow up song "Hand on Heart" debuted May of 2013. Critics were pleased when the songs appeared on her 2013 EP, Black.
Nadiah's natural stage presence indicated that she was an experienced singer. While some of us met her as Nadiah Adu-Gyamfi, other fans know her as Moko.
Nadiah's Rising Career
Nadiah has already performed at the BBC introducing stage at Glastonbury. In 2013, she gained popularity when she collaborated with popular British Electronic Music duo, Chase & Status. Being featured on the singles "Count on Me" and "Like That," helped Moko see her name at number five on the U.K. singles chart, as well as led her to signing a record deal under the Duo's label.
The MTA music label was under Virgin EMI. Other artists under that label include Carrie Underwood and Katy Perry. With a record label behind her, Moko was able to tour with Chase & Status and promote her Black EP. The singer was praised as a new voice and great dancer throughout her early career.
Moko showed no signs of slowing down. In 2014 she released her follow up EP, Gold. That project created the single "Your Love" and reunited her with Chase & Status. She was then featured on MNEK's single "Judgement Day." After a brief stint on the YouTube singing competition series North Vision Song Contest, Nadiah's hot career seemed to stall.
Nadiah Adu-Gyamfi is Here to Stay
Moko reemerged as Nadiah Adu-Gyamfi this past December. She came in the final three episodes of Walk The Line as a person determined to beat all odds. During the competition, Nadiah leaned more on her voice, showcasing the strength and her ability to take on great R&B ballads. Unlike her Moko persona, where she allowed her eccentric side to show more she allowed her talent to shine through on the Walk the Line stage.
Nadiah's second chance is not something she is taking lightly. The singer went independent back in 2015 and went unsigned and managed herself over the past six years. The emotion behind her voice for each performance tells a story of triumph. Her final performance she dedicated to her mother, who looked on in amazement as her daughter brought the house down.
With a show that pulled close to two million viewers for its finale, fans await to see if this will be the second chance of a lifetime for Nadiah Adu-Gyamfi.
Let us know what you feel about this article