What We Know About JoJo Siwa's Relationship With 'Perfect' Girlfriend [VIDEO]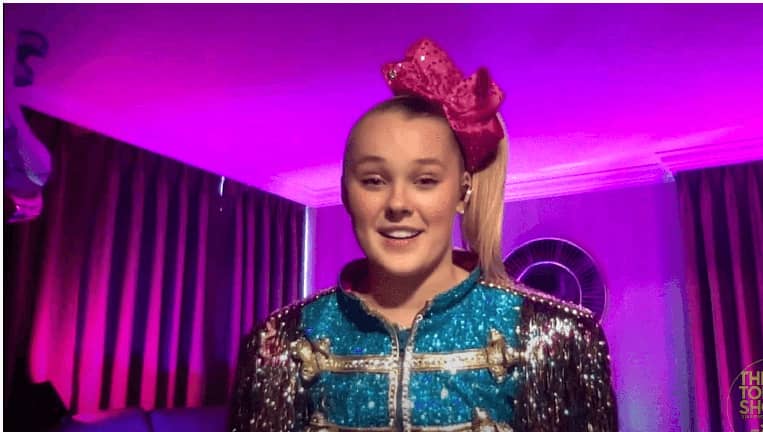 NBC/The Tonight Show Starring Jimmy Fallon
JoJo Siwa just opened up in the most adorable way about her new girlfriend. Just a few weeks ago, JoJo came out as a member of the LGBTQ community on social media. In a recent appearance on The Tonight Show Starring Jimmy Fallon, JoJo gushed about her girlfriend and how she helped her share her coming out story with the world.
JoJo Siwa Revealed She Has A 'Perfect' Girlfriend After Coming Out
"It was the most insane thing ever," JoJo said about coming out. "Literally everyone and their brother messaged me, called me, texted me, sent me an Instagram message and tweeted me. It was the most love I think I've ever received and the coolest thing about it was it was just by me showing the last little piece of me they haven't seen." Host Jimmy Fallon asked JoJo if she planned on coming out. JoJo was doing TikToks with her friends from The Pride House LA and she thought about how this was going to out her.
"I was like 'I don't really mind because it is true I do have the most amazing, wonderful, perfect, most beautiful girlfriend in the whole world'" she said with a smile on her face. "It's not something I'm ashamed of I just haven't shown the internet yet."
SEE ALSO: JOJO SIWA COMES OUT ON TWITTER AFTER POSTING LGBTQ TIKTOK
JoJo then posted a TikTok video lip-synching the words to Lady Gaga's "Born This Way." This further created speculation that she is a member of the LGBTQ community. Her comments blew up with love from her 32 million followers as they realized this was her coming out moment. The Masked Singer star then posted a picture wearing a shirt that says "Best. Gay. Cousin. Ever" that she had first only made public for her close friends.
The day after she posted the "Born This Way" TikTok, JoJo was on FaceTime with her long-distance girlfriend. They spoke about all of the love and support she had gotten from fans on TikTok. Her girlfriend encouraged her to post the t-shirt picture on her social media for all of the world to see, not just close friends. After she posted the picture, she was surrounded by love from fans including her 10.5 million Instagram followers.
Who Is JoJo Siwa Dating?
JoJo said that she and her girlfriend are on the phone together 24/7 and their parents get so annoyed at them. Even 10 minutes before her interview on The Tonight Show Starring Jimmy Fallon, JoJo spoke on the phone with her and the 17-year-old got emotional because of how happy she is. Of course, everyone wants to know now who JoJo is dating. She has no obligation to share that information with the world. She can choose which parts of her life she wants to keep private or when she wants to share them.
However, this has not stopped people from speculating who JoJo is dating. TikTok users have already begun posting videos wondering who JoJo's girlfriend can be. One TikTok user commented, "There is a rumor that her girlfriend's name is Kiely and they met on a cruise like a year ago." Obviously, this can very well be a baseless rumor since JoJo has not confirmed the identity of her girlfriend.
SEE ALSO: JOJO SIWA ADDRESSES INAPPROPRIATE CARD GAME THAT HAS MOMS FURIOUS
JoJo has a lot to be happy about as she was just named one of Time Magazines Most Influential People of 2020. She is currently in Canada working on a musical about her life with Nickelodeon.
Let us know what you feel about this article