WATCH Terry Crews SLAM Critics Asking Him To 'Shut Up' On Black Lives Matter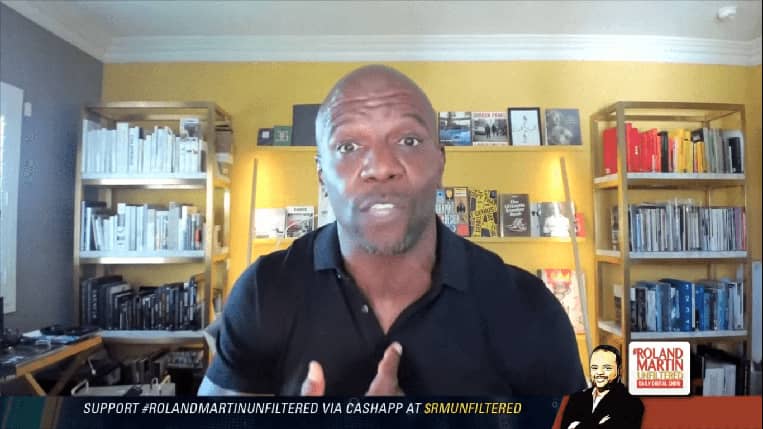 YouTube
America's Got Talent host Terry Crews is not backing down after receiving criticism for a recent tweet about the Black Lives Matter movement. It's not the first time in recent weeks that Terry has faced backlash for his comments.
Terry recently spoke to Roland S. Martin about the issue, and defended his point of view. He also further addressed the controversy surrounded Gabrielle Union and AGT. Check out the interview below.
Terry Crews Responds To Criticism Over Black Lives Matter Tweet
On Tuesday, Terry came under fire for tweeting, "We must ensure #blacklivesmatter doesn't morph into #blacklivesbetter." This message, in addition to his recent comments warning against "Black supremacy," has caused quite the stir on social media.
RELATED: WATCH TERRY CREWS DOUBLE DOWN ON HIS 'BLACK SUPREMACY' TWEET DESPITE BACKLASH
Many Twitter users responded to Terry's comment, calling him "ignorant" and reminding him that the Black Lives Matter movement aims for equality. During their half-hour interview, Roland S. Martin challenged Terry on several of his points, but Terry defended his comments.
Terry recounted the negative response he's received to his tweet. "I realized that some Black lives matter more than others, because they don't want me, as a Black man, to talk," he said. "'You're gonna make us look bad.' But the deal is, I don't care about how we look. I care about how we are."
RELATED: TERRY CREWS' 'BLACK SUPREMACY' COMMENTS SET OFF A TWITTER FIRESTORM
"We have to really examine these things within each other," Terry said, adding that "colorism" still exists. "This is stuff that I have faced personally, and I just really am tired of actually having to be quiet about it. I love my people so much, and I'm willing to risk it all."
Terry received further criticism in the interview's comments. "He's just mad at the black community… he personalizes his experiences and generalizes… how sad is it…" wrote one commenter. Another wrote, "Terry is deflecting the issue of inequality with other black issues."
Terry Talks About The Gabrielle Union Drama
During his interview with Roland, Terry Crews mentioned that he's been "canceled" many times for various comments he's made. This prompted Roland to ask him about the controversy surrounding Gabrielle Union's firing from America's Got Talent.
Terry was criticized for not having Gabrielle's back as she accused the show of racism and a "toxic" work environment. As he told Roland, he has apologized to Gabrielle twice. He said he didn't consider his "male privilege" when defending the show.
RELATED: FORMER 'AGT' HOST NICK CANNON REACTS TO CURRENT HOST TERRY CREWS' RACISM CONTROVERSY
"I should have just said, 'Ask Gabrielle,'" he said. "But I was speaking form my experience. They asked me about how I felt. And I'm happy about the show, so I told it."
He also acknowledged that he responded in anger when he was criticized on social media. Terry recently addressed Gabrielle on Twitter, saying, "In my desire to be professionally neutral as your co-worker, I should have at the very least understood you just needed my support."
Let us know what you feel about this article