Katy Perry, Orlando Bloom Are Unrecognizable in Voting PSA Set 34 Years in the Future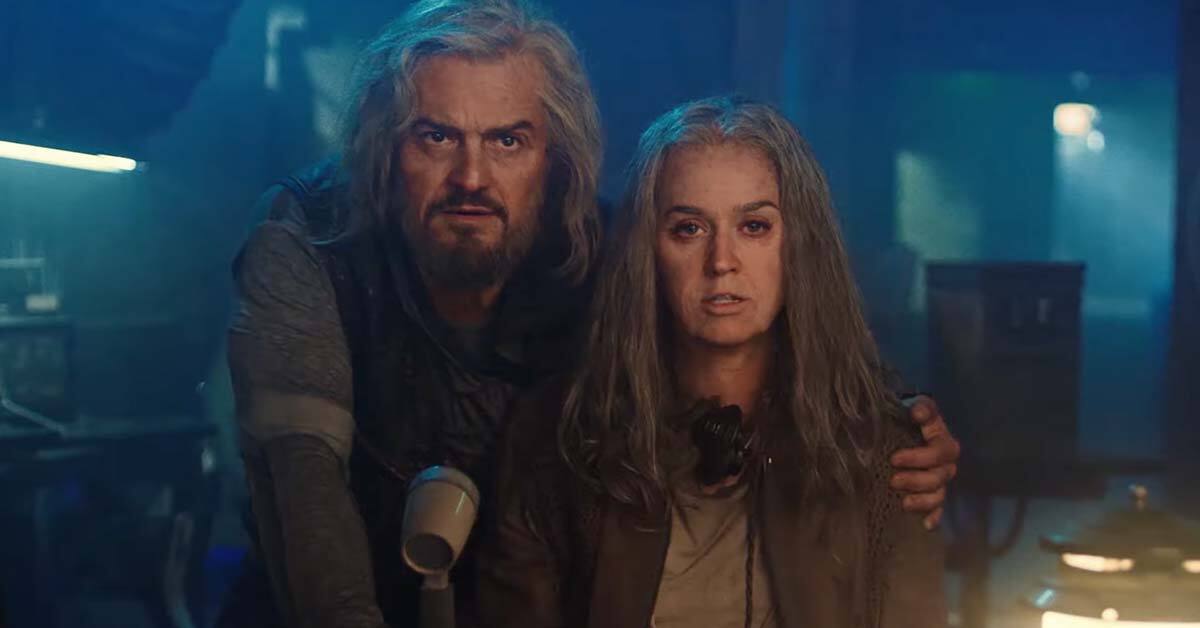 Represent Us/ YouTube
Katy Perry and Orlando Bloom got some serious makeovers for a new PSA about voting rights. It's so hard to recognize them dressed as if they are 34 years in the future. The video was posted in support of the For the People Act, which aims to expand voting rights in the United States.
Katy Perry Looks Completely Different with Orlando Bloom in Futuristic PSA Video
Perry and Bloom, from the year 2055, try and broadcast a message to people living in 2021. They successfully relay their message on people's phones, television screens, and billboards in Times Square. The couple both have gray hair and are wearing prosthetics to make them look older. They basically look like they can be extras in one of the Lord of the Rings films Bloom has starred in.
"You are our only hope," Bloom says. "The America you know doesn't exist in our future. Democracy is dead. We have no voice. The regime watches our every move."
In the video, Bloom and Perry are wanted and are being hunted down. For someone who is not an actress, the American Idol judge nails the sense of urgency to get the message out to the people of 2021. The video was posted by RepresentUs on YouTube.
loading="lazy"
"It started when voter suppression ran wild all over America," Perry says. "The voting rights bills died in the Senate. Polling places closed. We lost our right to vote."
Bloom urges people that they have the power to change what happens in the future. He ends off the video by asking the people watching to "tell Daisy we love her." Bloom and Perry welcomed their baby girl Daisy Dove in August 2020. They announced her arrival in an Instagram post in collaboration with UNICEF.
The couple got engaged in 2019. Fans have since been convinced that the pair secretly got married after postponing their Japan wedding due to the COVID-19 pandemic. Perry and Bloom recently took a trip to Italy with Daisy and Bloom's son Flynn who he shares with ex-wife Miranda Kerr. By the looks of it, Bloom and Perry will still be together 34 years into the future.
Let us know what you feel about this article