Ariana Grande Proves She Knows What She's Doing During 'The Voice' Battle Round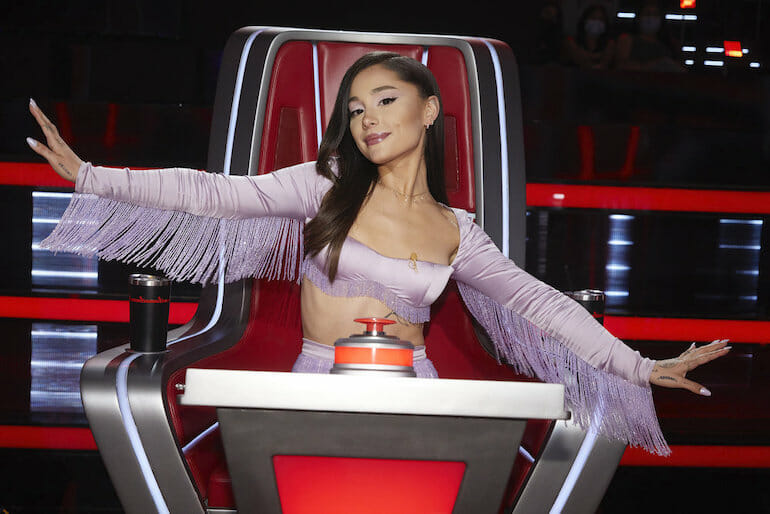 Trae Patton/NBC
The first performance on the last episode of The Voice battle rounds left fans and coaches with their jaws dropped. This was one of the best battles of the season up to this point. But because it's so late in the competition, there was a shocking elimination following the battle that was neck and neck.
Grande put Ryleigh Plank and trio KCK3 against each other. The coach and her mentor Kristin Chenoweth pushed these girls to hit their full potential in this battle with "Come on Over Baby (All I Want Is You)" by Christina Aguilera. All of these singers had extremely powerful blind auditions, so it's no surprise that they were put together. KCK3 performed "No Tears Left to Cry" by the coach when Ryleigh sang "Anyone" by Demi Lovato.
Considering everyone in this battle had a strong voice, Grande pushed to ensure that the trio put emphasis on all of their voices individually.
Grande Chooses Between Great Vocalists
In my opinion, this battle really proved that Grande knows what she's doing as a coach. I couldn't even predict who she'd announce at the winner! The four singers seriously could always perform together. This song was great for everyone involved in the battle, it seriously highlighted each individual person and dropped the jaws of all of the coaches.
Immediately after their performance, the coaches had only great things to say. None of the coaches really leaned toward either of the coaches, except Blake Shelton who thought Ryleigh hit the dramatic moments better.
Grande agreed with Shelton at the end of the day, but she still made sure the singers knew that she was proud of their improvement. Ryleigh was the winner of this battle.
"I think Ryleigh is just an angel and a vocal goddess," said Grande. "She could absolutely go all the way, I don't think there's a thing that girl can't sing."
KCK3, unfortunately, was not saved or stolen by any of the coaches and the ladies were sent home.
Let us know what you feel about this article