'American Idol' Stars Gabby Barrett, Cade Foehner Welcome Baby Son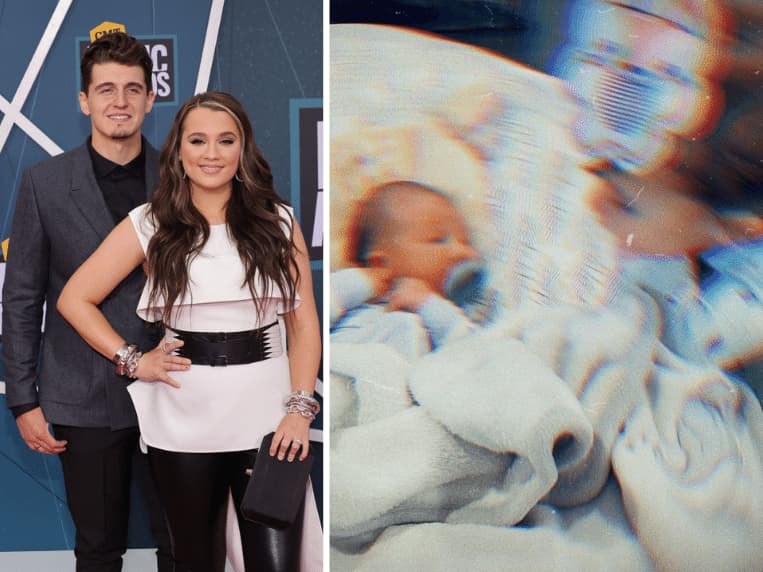 Photo by Mike Coppola/Getty Images, Gabby Barrett via IG
American Idol Season 16 finalists Gabby Barrett and Cade Foehner recently announced that they've welcomed their second child together, a baby son named Augustine. They posted a sweet photo of their daughter Baylah with her little brother to share the news.
Gabby Barrett, Cade Foehner Welcome Baby Son
On Wednesday, Barrett and Foehner posted a photo of their 1-year-old daughter Baylah looking down at her newborn baby brother, whose full name is Augustine Boone Foehner. The caption adds that his first name is pronounced "UH-GUS-TIN."
"Soaking up the newborn days with baby brother. What a precious gift from our Lord!" reads the caption. The couple also shared that Augustine was born on October 27. The official American Idol Instagram account commented on the announcement, writing, "Congratulations Gabby & Cade!"
Barrett and Foehner announced that they were expecting another baby in May of this year, sharing an ultrasound video on Instagram. At the same time, they also revealed that they were having a boy. Barrett took maternity leave in August, leaving Jason Aldean's tour early.
SEE ALSO: GABBY BARRETT TEASES NEW MUSIC FROM HER SECOND ALBUM
The Couple Met on American Idol Season 16
Barrett and Foehner met while they were competing on American Idol in 2018. Barrett finished the competition in third place, while Foehner made it into the Top 5. They got married in October 2019 and welcomed daughter Baylah May in January 2021.
Since her time on the show, Barrett has found success in the country music industry. Her single "I Hope" became a hit, and she went on to release her debut album Goldmine in 2020. Foehner frequently joins her on stage to play guitar.
The couple recently announced that they'll be performing a charity show December 17 in Nacogdoches, Texas. The Giving for Good Show will raise money for GraceWorks Ministries and St. Jude. They intend to continue the tradition every year.
Let us know what you feel about this article