Who is Ryan Seacrest's Girlfriend Aubrey Paige Petcosky?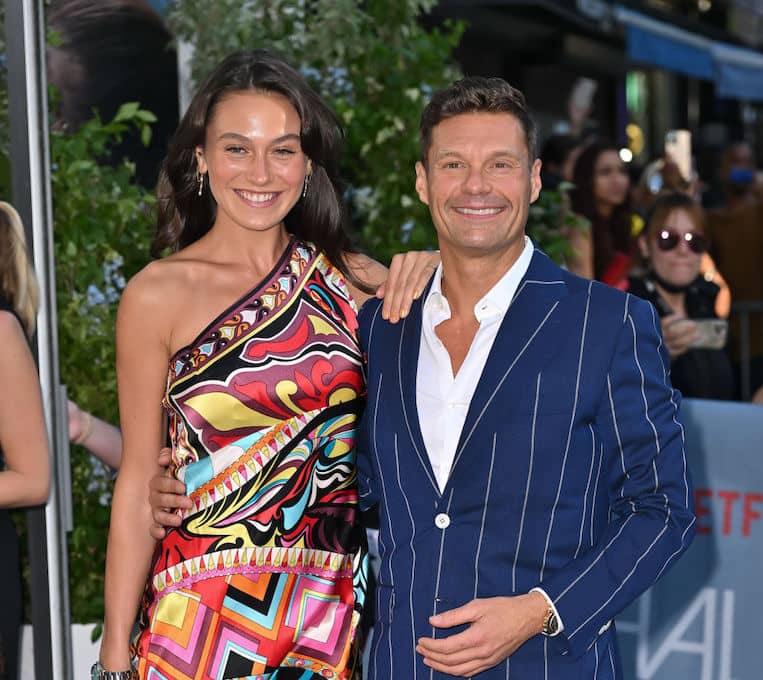 Photo by James Devaney/GC Images
Ryan Seacrest and girlfriend Aubrey Paige officially made their red carpet debut this week at the premiere of Jennifer Lopez's new Netflix documentary Halftime during New York's Tribeca Festival. The American Idol host started dating Paige last year.
Who Is Ryan Seacrest's Girlfriend, Aubrey Paige?
Paige is a model and social media influencer from Austin, Texas, whose full name is Aubrey Paige Petcosky. The 24-year-old has over 58,000 followers on Instagram and over 128,000 followers on TikTok.
She posted in a recent TikTok video that she took a break from modeling and social media for two years, but now she's "back in the game." Paige previously shared the she had taken a gap year off from college and spent time in Los Angeles.
Paige posts modeling photos, behind-the-scenes videos, and workouts on her social media. In her Instagram bio, she lists her interests as "Screenwriting, Travel, Fashion, Fitness."
Us Weekly reported that Seacrest and Paige were dating last June. Then for New Year's, Paige posted two photos of the pair together on Instagram and wrote, "Safe to say the best part of 2021 was meeting the most incredible man."
SEE ALSO: RANDY JACKSON, RYAN SEACREST REMINISCE ABOUT THEIR TIME ON 'AMERICAN IDOL'
Kelly Ripa Approves of Seacrest Dating Paige
Seacrest's Live co-host Kelly Ripa is apparently a fan of Paige, whom she met at a birthday party for her husband Mark Consuelos. Ripa and Seacrest talked about it during an April episode of their talk show.
"If you two break up, I will go into seclusion," Ripa told Seacrest, according to E! News. "I am so fond of her."
Consuelos was apparently intrigued by the couple's height difference, as Paige is taller than Seacrest, and even more so in heels. According to Seacrest, Consuelos apparently asked the couple, "How's that work?"
The couple also has a significant age difference of 23 years. Seacrest is no stranger to dating younger women, as Julianne Hough is 14 years younger than him, and Shayna Taylor is 18 years younger.
Let us know what you feel about this article