'The Masked Singer' Shares New Season 8 Promo, Reveals More Costumes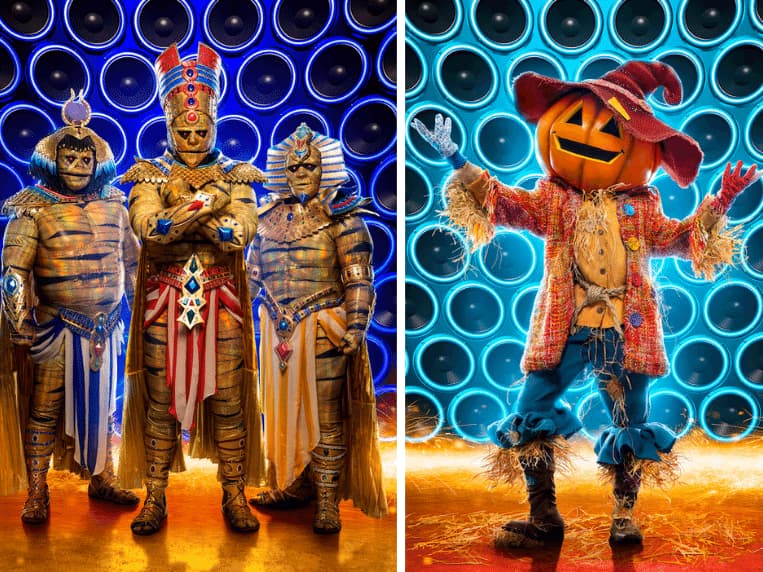 Photos by FOX
The Masked Singer has released a new promo for Season 8. This promo shows more details from the upcoming competition, including theme nights. The show has also revealed a few more costumes we can expect to see this season.
The Masked Singer Shares New Promo for Season 8
In addition to teasing several of this season's performances, the new promo also reveals several themes we can expect to see for upcoming episodes. That includes Vegas Night, Comedy Night, Andrew Lloyd Webber night, and Muppet Night.
It looks like the judges will be dressing up for these themed episodes. Ken Jeong is shown wearing a Phantom of the Opera mask and Jenny McCarthy looks to be dressed up as Gwen Stefani at one point. Guest stars such as Jon Lovitz, Leslie Jordan, and even Andrew Lloyd Webber himself will appear — not to mention Kermit and Miss Piggy.
The talent on this season is also shaping up to be impressive. The promo teases an outstanding performance from a singer in an all-gold costume that has yet to be revealed. The contestant sings Pink's "Perfect," and Scherzinger is shown saying, "One of the best performances we've ever had!"
The promo also confirms that this season will feature double unmaskings in every episode. Executive producer Craig Plestis recently revealed this change in format, along with the news that there will be three contestants in the Semifinals.
SEE ALSO: 'THE MASKED SINGER' REVEALS TWO NEW COSTUMES AHEAD OF SEASON 8
Three New Costumes Were Revealed
The Masked Singer has also revealed three new costumes for Season 8, including Hedgehog, Scarecrow, and Mummies. The clue for Hedgehog was a carrot, while the clue for Scarecrow was a crow. Meanwhile, Mummies is a three-person act whose clue is a ka statue.
These characters join previously revealed characters Bride, Avocado, Venus Fly Trap, and Sir Bug a Boo. It also looks like this season will feature a character named Hummingbird, which people are speculating could be NFL star Tom Brady.
The Masked Singer Season 8 premieres Wednesday, September 21, at 8/7c on FOX.
Let us know what you feel about this article