Sultry Khloe Kardashian Unrecognizable In Photo That May Have Just Confirmed Her Relationship Status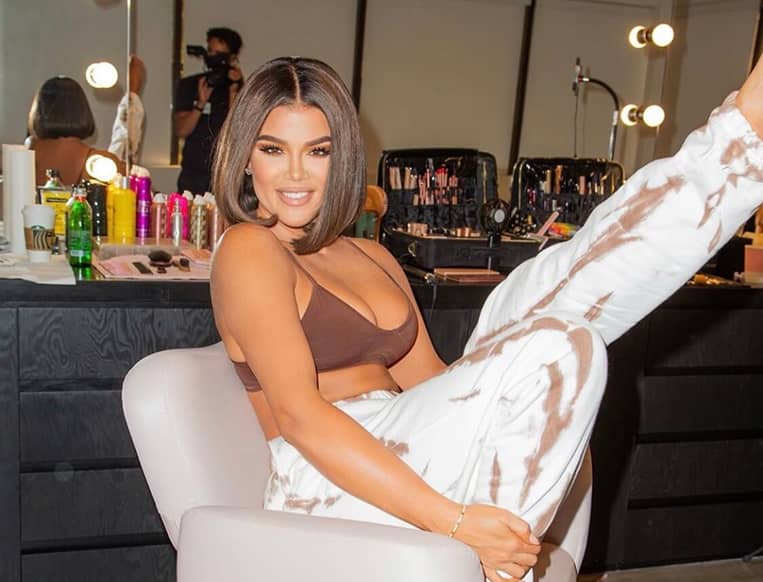 Instagram
Khloe Kardashian posted a new bikini selfie to promote her swimwear line Good Swim. The Keeping Up With The Kardashians star has had fans questioning her photoshop skills lately as her face has looked unrecognizable in some photos. And one comment from Scott Disick on her post may have just confirmed her relationship status with baby daddy Tristan Thompson.
Khloe Kardashian Fans Think She continuously Alters Her Appearance
Fans looking at Khloe Kardashian's Instagram have recognized that she continuously uses photoshop or FaceTune to alter her appearance. "Khloe Kardashian has a new face every week like???" wrote one person on Twitter.
This comes after one tweet of Khloe's pictures side by side looked extremely different. A Twitter user created a thread to show how celebrities change their appearance to look different on social media. Khloe was featured in the thread. Her selfie that broke the internet for looking extremely unrecognizable was put next to a picture of her in an interview for Keeping Up With The Kardashians. Both pictures were taken on the same day yet Khloe looks completely different in both of them. She noticeably had a different face to put it bluntly.
On another recent photo, someone commented "Wtf Happened 2 her face omfg."
SEE ALSO: KHLOE KARDASHIAN'S EPIC PHOTOSHOP FAILS THAT YOU NEED TO SEE
Did Khloe's Bikini Photo Just Confirm Her Relationship Status?
On the Good Swim bikini photo, Kourtney Kardashian's baby daddy Scott Disick left a comment that seemingly confirmed Khloe's relationship status. He wrote, "@realtristan is a lucky man." Khloe and Scott have always had a close relationship and commonly comment on each other's pictures. Khloe and Tristan Thompson have been reigniting relationship rumors lately after he began leaving flirty comments on Khloe's Instagram pictures. The pair have been in quarantine together during the coronavirus pandemic with their daughter, True, which has brought them closer. They initially split in February 2019 after he kissed Kylie Jenner's former bestie, Jordyn Woods, at a party.
"Khloé is hopeful that Tristan has changed for good and will continue to grow and be the great and loyal partner that he has been throughout their time together during the [coronavirus] quarantine," a source told Us Weekly earlier in August. The two are also reportedly house-hunting in Hidden Hills, California. "Tristan wants to prove to Khloé that he has changed and wants to make this permanent with a family home," the source said. Back in June on Khloe's birthday, Tristan posted a tribute to her saying that he loves her. He noted that he was learning to grow because of Khloe. He also attended her birthday party and it looked like the pair were on good terms.
SEE ALSO: ARE KHLOE KARDASHIAN AND TRISTAN THOMPSON ENGAGED? — A CLOSER LOOK AT HER NEW HUGE DIAMOND RING
At her birthday party, Khloe sported a huge diamond ring that led people to speculate that the pair are engaged. This has not been confirmed, and it definitely seems like they are taking the relationship one day at a time.
Let us know what you feel about this article