Nicole Scherzinger's Nieces Hilariously Roast Her 2000s Fashion Style in TikTok Series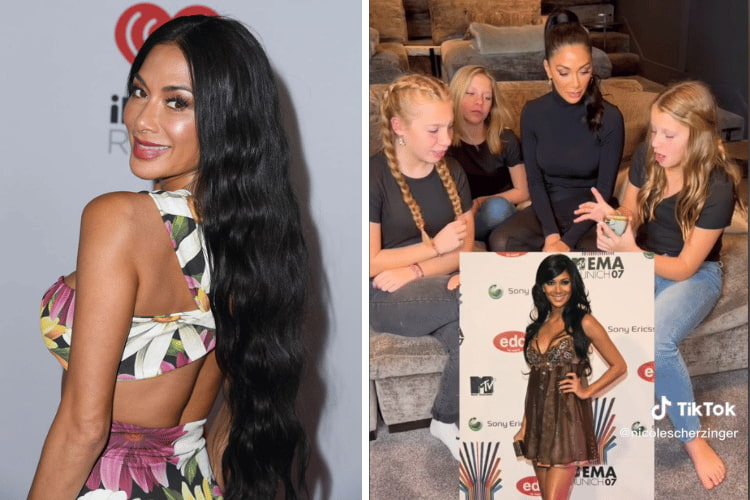 Photo by Steve Granitz/FilmMagic, Nicole Scherzinger via TikTok
Nicole Scherzinger lately dove into a TikTok challenge where she asked her nieces to rate her outfits back in the 2000s. Funnily enough, they failed to give her the nicest comments, unapologetically poking fun of Scherzinger's past fashion sense.
Nicole Scherzinger's Nieces React To Her Old Outfits
Last week, Nicole Scherzinger posted the first part of her challenge, featuring two of her past outfits. The first one was when she was wearing Frankie B's low-rise jeans and the second outfit was when she was donning an all-black halter top. These two getups are admittedly adorable, screaming iconic 2000s fashion. Overall, these getups elicited decent comments from her nieces, receiving scores ranging from five to seven.
The second part was practically where her nieces started the savage comments. After commending Scherzinger's beach-inspired look, they proceeded to critique the following photo, saying that the skirt destroyed her entire outfit. During the part three of her mini-series, the former Pussycat Dolls member's hilarious exchanges with her nieces continued.
"I think you're trying to be like a baddie, but you weren't a baddie," one said.
"This looks like a butterfly, and then at the bottom it looks like it's pooping," another stated.
One of her nieces commented that an outfit looks like a dress for a funeral. Nonetheless, Scherzinger has probably reserved the best for last. The final photo was an outfit designed by Christian Siriano from Project Runway. Consequently, it got two solid 10s and one nine from her nieces.
Fans Adore Her Close Relationship With Her Nieces
As of writing, the first video already gained 1.9 million views on TikTok. Evidently, Scherzinger's fans are loving the mini-series, seeing how close the singer is to her young nieces.
"Rich aunty vibes. Imagine having an aunty as iconic as her," one user commented.
Others mentioned how Scherzinger didn't age after generations. Meanwhile, several users loved how critical the girls have been to their auntie.
"They really came for that skirt. You can always count on kids to be honest and blunt but clearly they love their aunty too," one person stated.
Over the years, Scherzinger has been candid about her close relationship with these girls. The singer has shared beautiful snaps with them in the past, so we might expect more in the future.
Let us know what you feel about this article