Who is Rudy Giuliani? 'The Masked Singer' Costume Reveal + Prediction!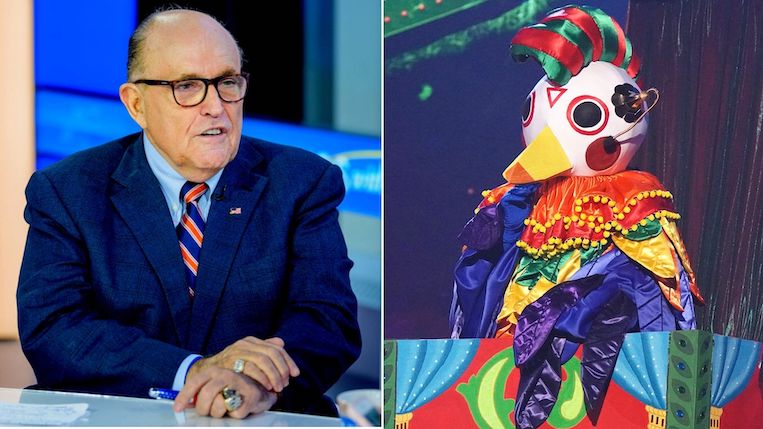 Roy Rochlin/Getty Images/ FOX
If you follow The Masked Singer news (or Twitter at all), you know there was a HUGE spoiler leaked before this season even started. Former New York City mayor, Rudy Giuliani, was unmasked during the show's taping, causing Ken Jeong and Robin Thicke to storm off stage. But six weeks into the season, he still hasn't made his appearance!
With one group left, which mask will Rudy be under? And will we finally see his big reveal?
Who is Rudy Giuliani?
Rudy Giuliani served as the mayor of New York City from 1994 to 2001. In 2018, he joined Donald Trump's personal legal team, leading to widespread media and public scrutiny. He is now a controversial figure for his unfounded claims and lawsuits around the 2020 election, which led to him having his license to practice law suspended in both New York and the District of Columbia in 2021.
Would The Masked Singer Really Cast Him?
The Masked Singer and other reality competition shows have never shied away from casting people with less-than-perfect backgrounds. Logan Paul, Caitlyn Jenner, and Johnny Rotten come to mind as previous contestants with controversy in their past. The likes of Sean Spicer, Carole Baskin, and Paula Deen have all appeared on Dancing With the Stars. Celebrity Big Brother has cast Ryan Lochte and Anthony Scaramucci.
WATCH: OUR LATEST RECAP OF THE MASKED SINGER + RINGMASTER EXPOSED
So that being said, it wouldn't exactly be a shocker to have someone like Rudy Giuliani on the show. The Masked Singer thrives on all the buzz they get around the celebrities, so the more people are talking about them, the more people tune in.
Who is Rudy Giuliani on The Masked Singer?
Using process of elimination, it's pretty easy to figure out who Giuliani will be in the last group of The Masked Singer season 7. In the last group, we have Baby Mammoth, Jack in the Box, Prince, Queen Cobra, and Space Bunny. From previews, Baby Mammoth and Queen Cobra both seem to be female contestants. We've previously heard Space Bunny singing and…that's not Rudy. So that only leaves Jack in the Box or Prince. Prince does not seem to have Rudy's body type so we are predicting that Rudy will be….
Jack in the Box!
Now, there's also been a good amount of mystery around Jack in the Box leading up to its reveal. We haven't gotten any clues about them, and they've largely been absent from the promos for the show this season. This would make sense, considering the controversial decision to have Rudy Giuliani on the show. The body type is also pretty hidden, so it could definitely be him.
When Will Rudy Giuliani Be Revealed on The Masked Singer?
If the leaked spoilers, and my personal assumption about his singing abilities, are correct, he will be eliminated on the first episode he participates in. That means we will likely see Rudy be revealed on this week's episode, airing Wednesday, April 20. But we'll have to watch to see! The Masked Singer airs at 8pm on Wednesdays on FOX.
RELATED: THE MASKED SINGER FIREFLY | RINGMASTER
Let us know what you feel about this article